Featured Story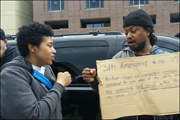 LIFE: A black Baltimore Unitarian Universalist marches for Freddie Gray, her city, and her faith.



Universalism in practice
Black lives matter.



A new ethos
How the UUA is promoting Beloved Community today.



In Baltimore, my liberation is bound up with yours
The minister of First Unitarian Church in Baltimore reflects on #BaltimoreUprising.



Family detention centers pack three mothers, many children to a room
Unitarian Universalists call attention to new detention centers holding hundreds of immigrant families.