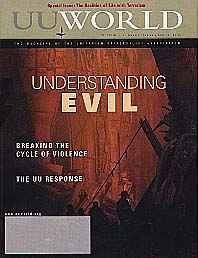 opening words
The Peace of Wild Things
When despair for the world grows in me and I wake in the night at the least sound in fear of what my life and my children's lives may be, I go and lie down where the wood drake rests in his beauty on the water, and the great heron feeds.

I come into the peace of wild things who do not tax their lives with forethought of grief. I come into the presence of still water. And I feel above me the day-blind stars waiting with their light. For a time I rest in the grace of the world, and am free.

— W
ENDELL
B
ERRY
From the new Beacon Press anthology,
Poems to Live By in Uncertain Times
; also, Reading 483 in
Singing the Living Tradition.
Copyright 1968 by Wendell Berry; reprinted by permission.
JANUARY/FEBRUARY 2002 FEATURES

Special Issue: The Realities of Life with Terrorism
Confronting Evil
Does our first principle—affirming the inherent worth and dignity of every person—apply even to terrorists? / BY WARREN R. ROSS
Breaking the Cycle of Violence
Genuine and durable peace requires responding to violent provocation in unexpected ways. /BY JOHN PAUL LEDERACH
Living the Faith
From ground zero to communities across the continent, Unitarian Universalists reach out in a transformed world. /BY DONALD E. SKINNER
On the cover: Photograph © Jim Watson, U.S. Navy/CORBIS, 2001.