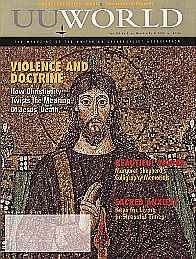 opening words
Anxiety the Teacher
Whoever has learned to be anxious in the right way has learned the ultimate. . . . Then anxiety enters into his soul and searches out everything and anxiously torments everything finite and petty out of him, and then it leads him where he wants to go. . . . [Thus] the individual through anxiety is educated into faith.

— S
ØREN
K
IERKEGAARD (1813–1855)
The Concept of Anxiety,
1844. Quoted in Robert Gerzon's article,
"Sacred Anxiety,"
in this issue.
MARCH/APRIL 2002 FEATURES
Violence and Doctrine
Christianity has disastrously misinterpreted Jesus' death, leaving a legacy of violence. / BY RITA NAKASHIMA BROCK AND REBECCA ANN PARKER
Sacred Anxiety
The key to serenity in stressful times may be the ability to put anxiety to good use. /BY ROBERT GERZON
Beautiful Words
Master calligrapher Margaret Shepherd transforms 'the words the church is made of' into dazzling modern art. /BY CHRISTOPHER L. WALTON
On the cover: Mosaic detail, "Christ in Benediction Enthroned with Four Angels." Nave, Basilica of St. Apollinare Nuovo (Arian), Ravenna, 6th century. Copyright Scala/Art Resource, New York.