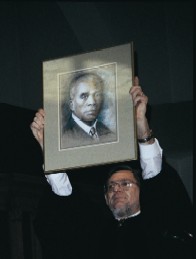 opening words
The Larger Community
The religious community is essential, for alone our vision is too narrow to see all that must be seen, and our strength too limited to do all that must be done. Together, our vision widens and our strength is renewed.

— T
HE
R
EV.
M
ARK
M
ORRISON
-R
EED
From
Singing the Living Tradition,
Reading #580. Morrison-Reed serves the First Unitarian Congregation of Toronto.
MAY/JUNE 2002 FEATURES
A Step Toward Reconciliation
A Cincinnati church has extended itself to the family of black Unitarian minister W.H.G. Carter, who was rejected many years ago. / BY DAVID WHITFORD
His Rightful Place
The great-granddaughter of W.H.G. Carter reflects on what it's like to accept a church's apology. /BY STARITA SMITH
In Praise of the Imperfect Life
Ants, ticks, mosquitoes, and the story of Job are reminders that we will never know God's reasons. /BY PHILIP SIMMONS
A Future in This Place
A minister recalls the joys, insecurities, and embarrassments of her first year in the pulpit. /BY ELEA KEMLER

On the cover: The Rev. Morris Hudgins shows a portrait of the Rev. W.H.G. Carter during the service of reconciliation at the First Unitarian Church of Cincinnati.