Gregor Samsa's second life
---
by Christopher L. Walton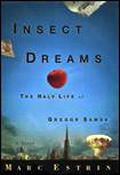 Insect Dreams: The Half Life of Gregor Samsa. By Marc Estrin. BlueHen Books, 2002; $26.95.

Marc Estrin's first novel revives Gregor Samsa — the protagonist of Franz Kafka's Metamorphosis, who woke up one morning transformed into a cockroach — and sets him loose in the turbulent years leading to the first atomic explosion in 1945. The result, thanks to Estrin's mordant sense of humor and lively descriptions of people, literature, and events, is a fine comic novel shot through with ideas and shaped by a vigorous moral imagination. (Estrin was a UU minister in the late 1980s.)

Who better than a highly literate cockroach to slip into the cracks of the defining historical moments of the last century? Like Forrest Gump, Gregor seems to meet everybody. He talks to Ludwig Wittgenstein, then still a school teacher in Austria, at a freak-show in Vienna. He takes the feminist Alice Paul on a date to a baseball game in New York, where he befriends the composer Charles Ives. And — why not? — Gregor ends up in the White House of Franklin Delano Roosevelt, living as only a roach could in a large kitchen cabinet. Eleanor Roosevelt sits Gregor down one day and says, "Gregor, you're a wonderful person. We value you greatly. But you are a roach person. There's no way around it. We ignore that, we treat you no differently from anyone else, we don't even have to work at it anymore — you're simply our friend, Gregor Samsa, trusted colleague — and roach person." Not every episode succeeds. A chapter about Sacco and Vanzetti seems forced. An epilogue, tacked on to interpret a muddled finale, lacks the satirical touch that makes the rest of the novel such a troubling pleasure to read. Sure, a modest suspension of disbelief is required for Gregor to move from one extraordinary coincidence to the next, but Kafka turned him into a cockroach in the first sentence of his literary debut. Readers who like intellectual adventure will find Gregor Samsa's second literary life entertaining and provocative.

The final chapters play darkly and not entirely successfully with the question of whether humane values can survive, much less transform, a world threatened by nuclear weapons and brutal politics. Gregor embodies something of a rejection of the notion of progress; his is an evolutionary path not taken. "You are the first known throwback in the phylogenetic chain," the Austrian writer Robert Musil tells Gregor in another unlikely encounter. "Somehow, God bless, your ontogeny took a step back toward a more larval state." The book's lingering question is whether humankind emerged from the violence of the last century as a new kind of beast, or whether we are still in a larval, more hopeful state.





UU World XVI:4 (July/August 2002): 51

---