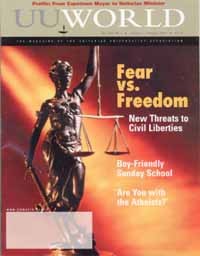 features JANUARY/FEBRUARY 2003 · VOL XVII NO 1
Fear vs. Freedom
Living by Our Faith · Fear is sometimes the appropriate response to the world around us, but it must be leavened by faith. /BY TOM STITES
Fear of Freedom · The threat of terrorism is real. How do we weigh our desire for safety against threats to our civil liberties? /BY WENDY KAMINER
A Victory for the Heretics · Unitarian Universalist Ellery Schempp helped win a historic victory for constitutional freedoms in public schools. /BY KIMBERLY FRENCH
What You Can Do · Help your congregation get involved in the UUA Study/Action Issue on civil liberties. /BY JANE GREER

Boy-Friendly Sunday School
Our religious education programs may not be meeting the needs of boys, and religious educators are talking about solutions. /BY NEIL CHETHIK
SIDEBAR Ten ways to make your religious education prgoram boy-friendly.

'Are You with the Atheists?'
A Unitarian Universalist attends the annual conference of American Atheists in order to be, for once, the most religious person on the premises. /BY DAN KENNEDY
---
reflections
Commentary. We need more patriots. /BY FORREST CHURCH
Wayside Pulpit. Road to holiness. /BY DAG HAMMARSKJÖLD
Creations. Emergent Force. /BY ROBERT PULLEY
Musing. Paradox riders. /BY TOM OWEN-TOWLE
Encounter. The red dress. /BY SARAH YORK
Creations. Flag of wishes. /BY BEATRIZ GRAYSON
Heritage. Reason and faith. /BY FREDERIC HENRY HEDGE
Poem. Unholy sonnet 31. /BY MARK JARMAN
Meditation. Kaleidoscope. /BY ELIZABETH TARBOX
Scripture. Finest essence. /CHANDOGYA UPANISAD
Odyssey. Tuna casserole syndrome. /BY KELLIE SISSON SNIDER
Inside Out. Cartoon. /BY CHARLES BARSOTTI
Interpretation. X of life's equation. /BY RICHARD TRUDEAU
Testimony. /COMPILED BY JOHN A RAKESTRAW JR.

---
departments
Opening Words. Spiritual freedom. /BY WILLIAM ELLERY CHANNING
From the Editor. What's new in 'What in the World?' /BY TOM STITES
Our Calling. A new call for civic courage. /BY PRESIDENT WILLIAM G. SINKFORD
Letters. Disputing responses to the 'war on terrorism,' and other matters. /BY OUR READERS
Bookshelf. Religious dialogue in a divided world. /BY CHRISTOPHER L. WALTON
Congregational Life. Social justice work engages, energizes. /BY DONALD E. SKINNER
Spiritual Landmark. The Unitarian Church of Mequon, Wisconsin.
What in the World? Discussion questions. /BY JANE GREER
Looking Back. Cecilia Payne-Gaposchkin: pioneering astronomer. /BY HERBERT F. VETTER

---
news
UUA News.
UUA launches growth campaign in two cities
Director for lay leadership appointed
Conference scheduled for midsize churches
UU Trend. Safeguards to prevent child abuse. /BY DONALD E. SKINNER
In the Congregations.
Utah UUs fight for free speech on city block
Virginia UUs mobilize for social action
Church responses to study issue due in March
Social Justice.
UUs lend support to striking Boston janitors
Topeka church volunteers to pay school tax
Political Action. Threat of war mobilizes UUs, churches. /BY ROB CAVENAUGH
Living the Faith. Cape Town mayor, Unitarian minister. /BY OLIVIA HOLMES & TOM STITES
UUs in the News.
British Unitarians win Emmys for slavery film
Gay UU housing official raises conservative ire
UU-founded agency helps migrant families
International.
Women seeking alternatives to violence
Czech, Philippine churches devastated by storms, floods
Welcoming Denomination.
First transgendered ministers accept calls
One-third of churches now designated 'Welcoming'
Religion News. What would Jesus drive? /BY JOHN A. RAKESTRAW JR.
Milestones. Obituaries for Nicholas Cardell, Roger A. Cowan, Gerald Krick, George Robinson, Gerald Fabrique Weary, and William Gayle Wetzel.

Not every article in the printed magazine is published on-line. Back issues of the magazine are available for $4.50; photocopies of selected articles are also available. E-mail world@uua.org or call (617) 948-4693 for more information.


UU World XVII:1 (January/February 2003)