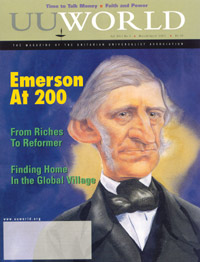 features MARCH/APRIL 2003 · VOL XVII NO 2
Emerson At 200
Emerson's Mirror · Ralph Waldo Emerson, now as during his lifetime, is a complicated, sometimes contradictory, Unitarian archetype. A bicentennial reflection. /BY RICHARD HIGGINS
Emerson's Shadow · It's time for Unitarian Universalists to step out of the shadow cast by this original thinker. /BY FORREST CHURCH
From Riches to Responsibility
Born to family wealth, Chuck Collins gave away his inheritance and has devoted his life to economic justice. Now he is taking on the repeal of the estate tax. /BY KIMBERLY FRENCH
At Home in the Global Village
A sense of place and community connections are essential for a feeling of stability in our modern world. /BY MARY PIPHER
---
reflections
Commentary. Money and the spirit. /BY DAN HOTCHKISS
Wayside Pulpit. Faith. /BY PALFREY PERKINS
Scripture. Rabi'a's prayer. /BY TADHIKRAT AL'AWLIYA
Creations. Maine suite II · 23. /BY LANCELOTT
Affirmation. I believe in nature. /BY FLORENCE EMMONS
Heritage. The over-soul. /BY RALPH WALDO EMERSON
Poem. For twenty years. /BY CAROLE WOOD HARDY
Creations. Untitled. /BY ELIZABETH K. LILLY
Encounter. Too close to death. /BY ELEA KEMLER
Inside out. Cartoon. /BY CHARLES BARSOTTI
Meditation. Rise again. /BY BURTON CARLEY
Testimony. /COMPILED BY JOHN A RAKESTRAW JR.

---
departments
Opening Words. Wealth of vision. /BY KENNETH L. PATTON
From the Editor. What's religious about taxes? /BY TOM STITES
Our Calling. The world badly needs our good news. /BY PRESIDENT WILLIAM G. SINKFORD
Letters. Prayer and minority groups, and other matters /BY OUR READERS
Bookshelf. Power, religious faith, and social change. /BY CHRISTOPHER L. WALTON
Congregational Life. Welcoming new congregants, one at a time. /BY DONALD E. SKINNER
Spiritual Landmark. The Unitarian Universalist Fellowship of Bozeman, Montana.
What in the World? Emerson, money, and other matters. /BY JANE GREER
Looking Back. Sophia Lyon Fahs: Revolutionary educator /BY CHRISTOPHER L. WALTON

---
news
International.
UUs mobilize to protest war with Iraq /BY DONALD E. SKINNER
Churches clear Afghan minefield
Political Action.
Supporting progressive tax policies. /BY ROB CAVENAUGH
Interns put faith into action
Social Witness.
Salt Lake City UUs challenge Mormon control of city block
'Welcoming Congregation' sign vandalized twice in Melrose
UUs In the News.
Kansas wins prize for campaign to reinstate evolution
Living the Faith. Kansas City UU minister builds interfaith bridges /BY DONALD E. SKINNER
Environment.
Vermont fellowship supplies energy
Austin church certified as wildlife habitat
In the Congregations.
Small New Mexico fellowship big in spirit
Congregation rallies when town loses power
Anniversary art in Poughkeepsie
UU Trend. Practicing to become a UU minister /BY DONALD E. SKINNER
Religion News. New, or simply tacky? /BY JOHN A. RAKESTROW JR.
Milestones. Obituaries for John Robert Jablonski, Anita Rowson, Jody Shipley, Robert P. Wheatly.

Not every article in the printed magazine is published on-line. Back issues of the magazine are available for $4.50; photocopies of selected articles are also available. E-mail world@uua.org or call (617) 948-4693 for more information.


UU World XVII:1 (January/February 2003)