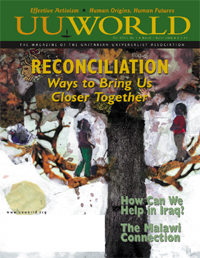 features
MARCH/APRIL 2004 · VOL XVIII NO 2
Reconciliation as a Spiritual Discipline
COVER STORY In our own souls, between individuals, within groups, and between groups. /BY PAULA COLE JONES
SIDEBAR The practice of reconciliation /BY PAULA COLE JONES
How Can We Help in Iraq?
Simple acts of kindness /BY JAMES RUPERT
Kids as sacred as mine /BY DENISE BREEDEN-OST
Supporting relief efforts
An Enduring Bond
Links between Minnesota and Malawi /BY WARREN R. ROSS
A visit to the Kasambala clinic /BY ROBERT L. ELLER-ISAACS
---
reflections
Commentary. The tyranny of the single thing /BY CRAIG MORO
Wayside Pulpit. Love /BY PETER USTINOV
Interpretation. Living in exile /BY VICTORIA SAFFORD
Creations. Mary's platter /BY DENNIS FEHR
Encounter. Sacred places /BY STEPHEN M. SHICK
Creations. Sisters /BY MARTHA MEYER
Odyssey. Pulled into the game /BY MARILYN SEWELL
Heritage. Conspiracy with change /BY EDWARD L. SCHEMPP
Affirmation. Elevator speeches
Scripture. Winter is past /SONG OF SONGS
Inside Out. Cartoon /BY CHARLES BARSOTTI
Testimony. Religious voices in the news /BY JOHN A. RAKESTRAW, JR.
---
departments
Opening Words. /BY HOWARD THURMAN
From the Editor. Style and substance /BY TOM STITES
Our Calling. Affirm the power of love /BY PRESIDENT WILLIAM G. SINKFORD
Letters. /BY OUR READERS
Forum. Strategies for effective activists /BY ERIKA FOX
Congregational Life. Healthier congregations through parish nursing /BY DONALD E. SKINNER
Spiritual Landmark. The Unitarian Universalist Fellowship of San Daguito /BY JANE GREER
Bookshelf. Human origins and human futures /BY DAN CRYER
Living Tradition. 'Stronger than our condition' /BY NANCY J. SALZER
Books by UU Authors. /COMPILED BY KENNETH SUTTON
What in the World? Discussion topics on UU World articles /BY JANE GREER
Looking Back. Lucy Stone, woman's rights champion /BY JOELLE MILLION
---
news
UUA.
Voter registration drive kicks off /BY DONALD E. SKINNER
New PR tools to grow churches
Social Witness. UUs mobilize in Miami for FTAA protests
DISPATCH. Puppet shows, teach-ins, and tear gas /BY MEGAN COPPOCK
Living the Faith. Dedicating their lives to children /BY SONJA L. COHEN AND REUEL AMDUR
UU Trend. UUs establish legislative presence /BY DONALD E. SKINNER
In the Congregations. Tutoring program goes the distance; Alternative gifts; more
Religion News. Is the Muslim veil a civil right? /BY JOHN A. RAKESTRAW JR.
Art of friendship.
Political Action. Head Start faces political challenges
Milestones. Obituary for Malcolm Sutherland
Not every article in the printed magazine is published on-line. Back issues of the magazine are available for $4.50; photocopies of selected articles are also available. E-mail world@uua.org or call (617) 948-4693 for more information.


---