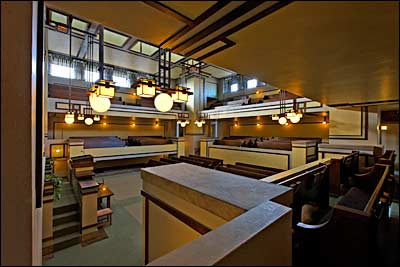 Photographic tour of Wright's Unity Temple
New book celebrates Frank Lloyd Wright's masterpiece for an Illinois Unitarian Universalist congregation.
By Christopher L. Walton
Winter 2009 11.1.09
Frank Lloyd Wright's Unity Temple: A Good Time Place
. By Patrick F. Cannon. Photographs by James Caulfield. Pomegranate, 2009; $24.95.
This photographic tour of Unity Temple, the architectural masterpiece Frank Lloyd Wright designed in 1905 and 1906 for the congregation now known as Unity Temple Unitarian Universalist Congregation in Oak Park, Ill., presents 49 color photographs of the building, along with Wright's architectural renderings and other archival images. An introductory essay examines how Wright's Unitarian background and the leadership of the Rev. Rodney Johonnot, the congregation's minister during the design and construction of the building, influenced its innovative design. An appendix reprints the brochure published for the groundbreaking ceremony in 1906, which explains the plan and the theology it embodies.
---
Photograph of the Unity Temple sanctuary © James Caulfield; courtesy of Pomegranate Communications. See sidebar for links to related resources.