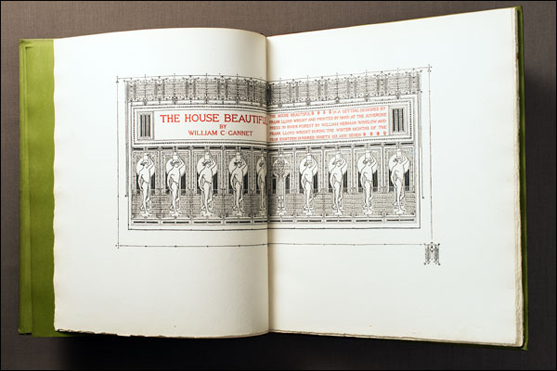 Frank Lloyd Wright's 'Beautiful' book
The famous architect designed a rare book by the Unitarian minister William Channing Gannett.
By Sonja L. Cohen
Fall 2013 8.15.13
raised Unitarian and identified as a Universalist
, also dabbled in book design.
Most notable is his hand-printed edition of the Rev. William Channing Gannett's 1895 essay "The House Beautiful," for the tiny Auvergne Press.
Unitarian Universalists today mainly remember Gannett as the author of a statement called "Things Commonly Believed Among Us," which helped resolve a major theological debate among Unitarians in the late nineteenth century. In his popular "The House Beautiful" essay, Gannett describes how simplicity and craftsmanship are key in creating both a home and a marriage. The essay's sentiment resonated deeply with members of the Arts and Crafts movement in the United States, including Wright.
"It was a charming thing," Wright said of Gannett's essay in a 1955 talk to the Taliesin Fellowship, "it charmed me, and so I suggested we print it."
Wright had already designed the title page for Auvergne Press's first book, an edition of John Keats's The Eve of St. Agnes. In 1896 he teamed with amateur printer and former client William H. Winslow, and they began work on The House Beautiful, which would be Auvergne's second publication.
"So we printed it," Wright told the Taliesin Fellowship, "working evenings and Sundays, and finally had it bound with a square green board cover. I went out and gathered seed pods and deduced from them a certain ornament with which I embellished the volume, and bound some photographs which I myself made of the weeds in the beginning of the book, with a little cover and a quotation in gold letters from Shakespeare."
Only 90 copies of the hand-printed book were produced, most of which were given to friends and relatives, and of those 90, few survive intact today. Wright sent Gannett a copy of the book, number 24 of 90, in December 1898. It stayed in the family until the 1980s, when Gannett's granddaughter, Ruth Gannett Kahn, gave the rare book to First Unitarian Church of Rochester, New York, which Gannett had served as minister from 1889 to 1908.
On March 29, 2013, First Unitarian donated its copy of the book to the University of Rochester's Department of Rare Books, Special Collections, and Preservation.
"We had it stored in a locked cabinet in our basement," said Nora Walter, church president. Though the basement is dry, she said the book was showing signs of foxing, or age-related spots and browning. "We rarely showed the book, because there were concerns that it could be stolen." Walter said that by giving the book to the university, which also houses a large collection of Gannett's papers, the congregation felt The House Beautiful would not only be well preserved but could also be safely displayed at last.

View this slideshow at UU World's Flickr page. Created with Admarket's flickrSLiDR.
---
This article appeared in the Fall 2013 issue of UU World (page 54-55). Photograph (above): The title page of William Channing Gannett's The House Beautiful, designed by Frank Lloyd Wright (© J. Adam Fenster, University of Rochester). See more images of this book at UU World's Flickr page. See sidebar for links to related resources.
Comments powered by

Disqus