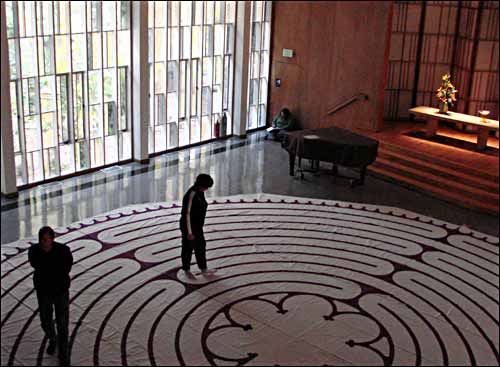 Cedar Lane's modernist auditorium
Pietro Belluschi's design for a Unitarian Universalist church in Maryland.
By Donald E. Skinner
Summer 2008 5.15.08
The modernist Italian architect Pietro Belluschi designed the church in 1955. Belluschi's most notable works include the Cathedral of St. Mary of the Assumption in San Fran­cis­co, the Portland Art Museum in Port­land, Ore., and the Juilliard School, part of Lincoln Center in New York City.
The church's auditorium is flanked by two walls made of glass running about two-thirds the length of the room. The glass walls are made of rectangles in clear, violet, and amber glass, casting a soft light on the room's floor. The glass walls give congregants a sense of connection with the outside.
The church's original design included a sanctuary, which was never built. According to the Rev. Roger Fritts, Cedar Lane's senior minister, there has been little desire to complete the job. "The auditorium worship space is so beau­tiful people are happy with what we have."
Belluschi designed churches with the user's spiritual needs in mind. At Cedar Lane visitors leaving the parking lot enter a sheltered walkway that runs along a garden courtyard. "Instead of having us enter the building directly from the parking lot, the courtyard gives us a transition space," said Fritts. "Belluschi intended the courtyard to prepare us for the religious experience both emotionally and psychologically."
---
Photograph by Heather Janules. See sidebar for links to related resources.