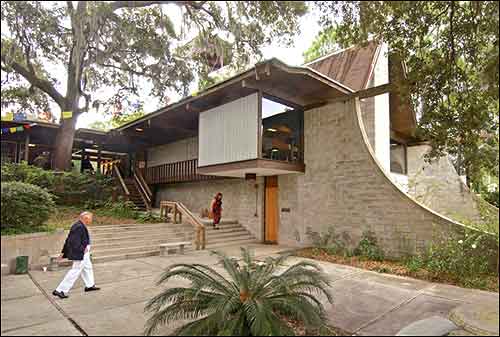 The church in the hill
Architect of Jacksonville, Fla., church wanted building to look like an extension of the land.
By Jane Greer
Spring 2007 2.15.07
Broward was a student of world renowned architect Frank Lloyd Wright and used several of Wright's principles in his design of the Jacksonville church. "Wright believed that a building should be of the hill, not on it," Broward said in a recent phone interview. The Jacksonville Church is built into a hill making it look like an extension of the hill. From a more practical point of view, Broward added, the hill location was the best use of the site, permitting easy access to the building's sanctuary on the top floor.
Another of Wright's principles incorporated into the church's design was the building's close relationship with nature. The sanctuary faces west and has top-to-bottom clear glass windows that look out over a small lake. Congregants can see trees beyond the lake that are part of a wetlands preserve. A low curving outer wall ties the structure organically to the rest of the landscape.
Designing the church was a spiritual experience for Broward. Six weeks before he took on the assignment, he had been in a near-fatal car accident. "When I survived, I felt a very deep reverence for the universe," he said. "Designing the church was a part of that."
---
Photo by Will Dickey/The Florida Times Union. See sidebar for links to related resources.