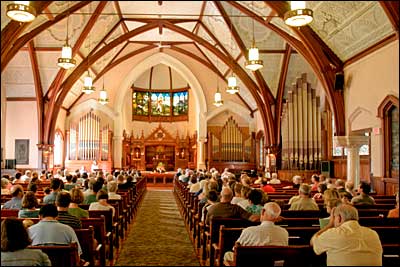 Restoring a Gilded Age church
Church built to honor William Ellery Channing in 1880 is restored for the 21st century.
By Jane Greer
Winter 2009 11.1.09
The church, named after prominent nineteenth- century Unitarian minister and theologian William Ellery Channing, who was born in Newport, was built in 1880 in the Gilded Age style. The building features a bas-relief sculpture of the Rev. Charles T. Brooks by Augustus Saint-Gaudens and stained glass windows by John LaFarge and Donald MacDonald. The window at the front of the church behind the pulpit, by MacDonald, is called "The Sower." Donors across the country contributed to the building's construction as a means of honoring the centennial of Channing's birth.
The church, which is located near Bellevue Avenue where most of Newport's opulent summer mansions are located, is starting to draw its own visitors.
The congregation made the decision to restore the building during a yearlong process of reflection on the church's mission and its future. "We have a sense of reverence and responsibility to be stewards of this sacred space, both as artwork and as a gathering place for worship," said the Rev. Amy Freedman, the church's minister. The building is a popular site for weddings, lectures, concerts, and public events.
---
See sidebar for links to related resources. Photographs by Matthew Cohen Photography.