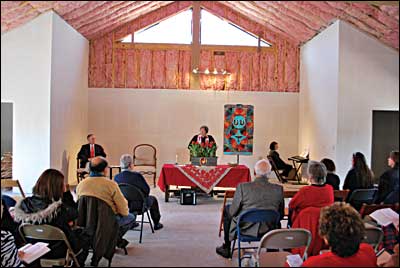 Small fellowship builds without debt
Huntsville, Texas, Unitarian Universalists build a church for $105,000.
By Jane Greer
Summer 2010 5.15.10
The congregation, founded in 1983, had been meeting in a hospital chapel twice a month. Over the years, fellowship members had talked about buying a building, and then later, constructing their own. A couple in the congregation decided to jump-start the process: They found a tract of developable land, bought it, and donated a 2.85-acre parcel to the church.
A committee then set to work designing a simple wood-frame building that includes a sanctuary, two religious education classrooms, a kitchen, nursery, and bathrooms.
The congregation voted in April 2009 to proceed with the building and held its first service there (pictured) on February 14, 2010. The building's speedy construction was due in large part to volunteer labor.
The congregation had managed to save $26,000 over several years, collected more than $50,000 in pledges from members, raised additional money through concerts, bake sales, and other fundraisers, and solicited more than $29,000 from donors outside the congregation, including two Chalice Lighter grants. The building's total cost to date is approximately $105,000.
Work remains to be done. For example, the kitchen has not yet been installed. But these things can be attended to over time when the money is available, said Lee Stringer, chair of the building committee. "We are committed to paying as we go."
---
Photo courtesy of Huntsville Item. See sidebar for links to related resources.