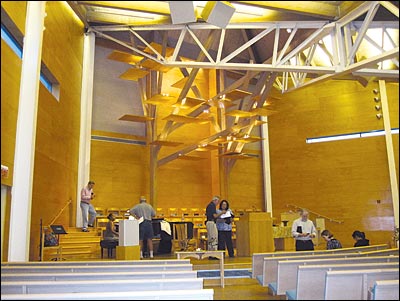 Members donated prisms and crystals for church skylight
Tree motifs prominent in San Antonio church.
By Jane Greer
Fall 2010 9.1.10
Trees are a primary theme in the building's design. The sanctuary's interior is almost all wood. Flanking the dais is a series of horizontal panels and vertical beams forming the image of two trees. (In this photo, members of the choir prepare for a rehearsal.) Looking toward the rear of the sanctuary from the dais, a glass wall permits a view of an oak tree in a courtyard.
In the fan-shaped sanctuary, six narrow, horizontal windows admit light while obscuring the view of the neighboring highway.
The building has a slanting roof, with the highest point, a pyramidal dome, over the dais. When lit at night, the dome resembles the flame of the Unitarian Universalist chalice. The skylight glass is embedded with old prisms and crystal jewelry donated by the congregation. When the sunlight passes through the crystals at certain times of the day and year, it creates a rainbow pattern on the walls of the sanctuary, which Wigodsky describes as twenty-first-century stained glass. "It's nature passing through the experience and history of these objects that creates the stained glass," he said.
---
Above: Members of the First Unitarian Universalist Church of San Antonio, Texas, prepare for a choir rehearsal. (Photo by Jim Noel)
blog comments powered by

Disqus