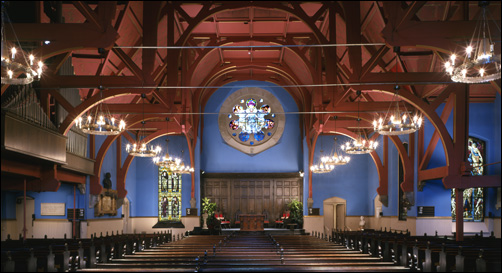 Saving a historic church
Spiritual landmark: First Unitarian Church of Philadelphia.
By Michelle Bates Deakin
Fall 2011 8.15.11
Members of the 145-year-old church are in the midst of a campaign to restore the Center City building, listed on the National Register of Historic Places, to its nineteenth-century glory. In May, members began a fundraiser, encouraging $250 pledges to "Buy a Brick." The goal is to raise $200,000 to have the building repointed to keep the water from seeping through the walls.
More than 2,200 people step through the doors of the Victorian Gothic church each week. On Sunday they come for worship, and throughout the week they come for day care, symphony concerts, punk rock shows, and to volunteer with City Year. When white flight struck Philadelphia in the mid-twentieth century, the membership of First Unitarian, like many city churches, shrank. Members considered selling the parish house, but decided instead to make it a neighborhood hub for meetings, political events, and concerts. "It's really a community center," says the Rev. Nate Walker, senior minister of the 210-member church.
The congregation was founded by Joseph Priestley, the English Unitarian minister and scientist, in 1796. First Unitarian claims the distinction of being the first continuously functioning church in the United States to name itself "Unitarian." The current building, the congregation's third, was designed by architect Frank Furness, the son of the Rev. Dr. William Henry Furness, who served the church as the settled minister for fifty years, starting in 1825.
The sanctuary is crowned by a hammer-beam ceiling, which is stenciled with gold-leaf daffodils and supports a dozen wagon wheel light fixtures. The stained glass window over the chancel was made by Louis Tiffany & Co. It sheds multicolored light upon the pulpit, which is a rugged oak reading desk. Beside it sits a baptismal font, said to be carved from a column that was once part of the Center Square waterworks that formerly stood at the site of Philadelphia City Hall.
A seven-sided stained glass rose window at the back of the sanctuary facing the street, crafted by John La Farge, depicts the figure of Isaiah in Michelangelo's painting on the ceiling of the Sistine Chapel. Restoring the historic windows is on the church's list of projects after the preservation of the walls is complete.
Scaffolding has been erected to begin work on the exterior walls. In addition to the Buy-a-Brick funding, the church received $75,000 from Partners for Sacred Places, a Philadelphia-based organization that promotes and funds active community use of older religious buildings.
---
Photo of the First Unitarian Church sanctuary © Tom Crane. See sidebar for links to related resources.
Comments powered by

Disqus