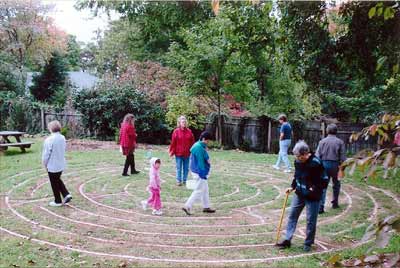 UU church creates an outdoor labyrinth
The Thomas Jefferson Memorial Church in Charlottesville, Virginia, is practicing a centuries-old tradition.
By Jane Greer
Winter 2005 11.1.05
The new labyrinth, dedicated in May, is a Santa Rosa labyrinth, which is a contemporary pattern of curves and switchbacks. It is unicursal, meaning only one path leads to the center, and the same path leads out. When labyrinth walkers encounter others on the path, each must step aside. "It resembles a dance," said Deborah Rose, coconvener of the church's labyrinth ministry.
Church volunteers did all the work constructing the labyrinth. They used spray paint and surveyor's flags to outline the paths, then lined them with bricks. Thirty feet in diameter, it cost about $1,000.
The Charlottesville church also has an indoor canvas labyrinth that is set up for use one weekend a month. This labyrinth is also brought to a local women's prison on a regular basis by a member of the labyrinth ministry.
The outdoor labyrinth is open to the public seven days a week during daylight hours. "People have access to it at times when they really need it," the Rev. David Takahashi-Morris, the church's co-minister, said.
The labyrinth has also served as outreach for the church. "The labyrinth ministry has enabled contacts with churches of other denominations," he said, "and brought people to church who wouldn't have come had it not been for the opportunity to experience this quiet spiritual practice."