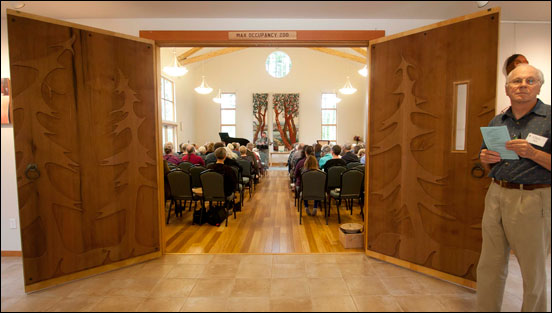 Island congregation embodies the arts
Artist-members grace Unitarian Universalist Congregation of Whidbey Island.
By Allison Bennett
Winter 2012 11.1.12
The 89-member congregation includes quite a few artists, including painters, musicians, and woodcarvers, said Mary Goolsby, a member of the Visual Arts Committee. "Many of us contributed in some way toward creating our building," she said. Goolsby and fellow member Nola Allen designed two fabric art panels depicting trees, which hang at the front of the sanctuary.
Trees are a major theme throughout the building. Member John Long, a retired teacher who carves Northwest Native-style masks, created the sanctuary doors out of salvaged cedar planks and engraved them with an evergreen motif.
Long said, "The design is intended to evoke the windswept trees which are a distinctive feature of Whidbey Island's west coast, which faces the Strait of Juan de Fuca."
Goolsby said, "Our devotion to trees has been manifest from the beginning, as we felt it necessary to include very large windows near the front of our sanctuary in order to enjoy the land on which we built. Perhaps a need was felt to honor our roots and our connection with all living things in that symbolic way."
In the sanctuary is a modern, curved wooden pulpit recently completed by Rick Pitt, a wood artist whose wife Vicky is a member of the congregation. Pitt designed the pulpit after consulting with the Worship and Visual Arts Committees to find a style and wood colors that would complement the space. He combined curly maple and padouk wood to go with the madrona trees in the fabric art panels.
Other art pieces are housed in the congregation's Gallery of Art, located in the building's foyer. When the church was almost fully constructed several members felt it would be important to provide space for the rotation of visual arts. They formed the Visual Arts Committee to plan and set up art shows in the gallery. They create new shows every other month, which often include the work of members and friends of the community.
---
Photo (top): Doors carved by John Long open to the UU Congregation of Whidbey Island sanctuary (Charlie Knutila). This article appeared in the Winter 2012 issue of UU World (pages 10–11). See sidebar for links to related resources.
Comments powered by

Disqus