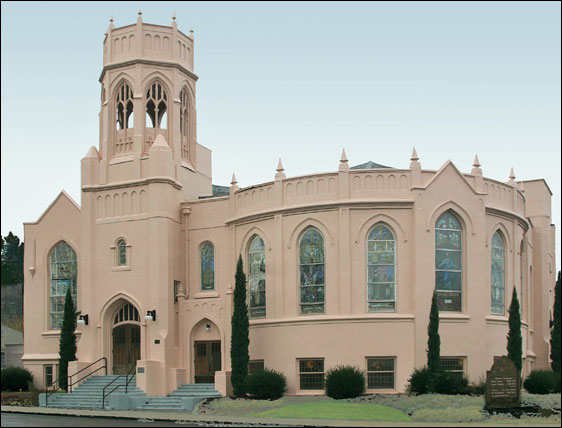 Pink church on the bluff
Oregon City UUs enjoy rare stained glass in a distinctive building.
By Allison Bennett
Spring 2013 2.15.13
Founded in 1844 as a Congregational church and named in honor of its first minister, the Rev. George Atkinson, the congregation joined the Unitarian Universalist Association in 1961. The current home of the 185-member congregation was designed in the Gothic Revival style by Willard F. Tobey. When it was completed in 1925, it was the largest church in Oregon City. One of its most dramatic elements is an octagonal tower that rises 66 feet above the main entrance. Atkinson Memorial is made of cement and masonry and was originally light beige or gray. In the 1960s a member visiting Washington, D.C., was inspired by the soft pink marble used in a museum and suggested that the church be painted the same color.
"It has definitely become distinctive," Worsnop said. "When we repainted the church about five years ago, there was some discussion of changing the color, but it didn't get very far."
The church's stained glass windows, which depict the life of Jesus, were designed and manufactured by David and John Povey in 1924 and installed in 1925. Known as the "Tiffany of the Northwest," the Povey Brothers Studio was founded in 1888 and was considered the finest stained glass company on the West Coast through the 1920s. However, since most of the windows they created before 1923 were not signed, their work is hard to identify. This makes the signed Atkinson windows some of the best surviving examples of their work.
---
This article appeared in the Spring 2013 issue of UU World (page 10). Photograph (above) by JoAnne Forsyth. See sidebar for links to related resources.
Comments powered by

Disqus