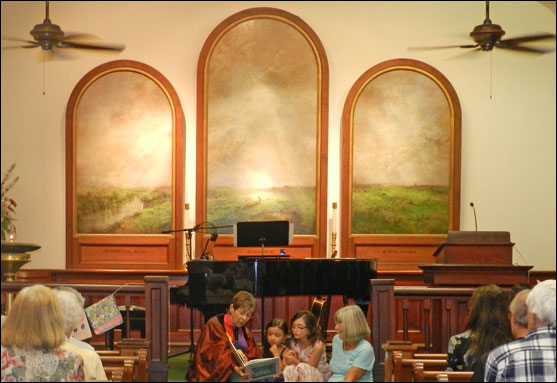 Home of the Inness Jr. paintings
Florida church home to largest collection of paintings by George Inness Jr.
By Allison Bennett
Summer 2013 5.15.13
Unitarian Universalist Church of Tarpon Springs, Florida
, houses the largest collection of paintings by notable American landscape artist George Inness Jr. The collection includes paintings of old Florida, as well as more formal works.
Inness Jr. (1854–1926) was the son of famous landscape artist George Inness Sr. and lived in his father's shadow for much of his life. He eventually came into his own, becoming known for his portrayal of natural light and for his depictions of spiritual and pastoral scenes.
"George was known for his greens, called the living greens or Inness greens," said Linda Gradual, a member of the church and head docent. She added that his use of light offers "a breathtaking realism."
Inness and his wife, Julia, wintered in Tarpon Springs and were both members of the congregation when it was a Universalist church. "The most religious of the paintings are rooted in Universalist understandings of the time," said the Rev. Marni Harmony. "The exquisite pastorals reflect a timeless spirituality."
The church, built in 1909, is home to eleven of Inness's paintings, created between 1918 and 1926. Two, The Centurion and The Last Shadow of the Cross, hung in the Louvre in Paris for thirty years. After Inness died, his wife had them shipped to the church. Another painting in the church, The Lord is in His Holy Temple, was finished just days before he died. In 1918, a hurricane blew out three of the church's sanctuary windows, so Inness painted three landscape panels to replace them.
The paintings, most of which hang in the sanctuary, are seen mainly by appointment. Admission is free, though donations are requested.
---
This article appeared in the Summer 2013 issue of UU World (page 10). Photograph of the chancel (above) by Barbara Kotacka. See sidebar for links to related resources.
Comments powered by

Disqus