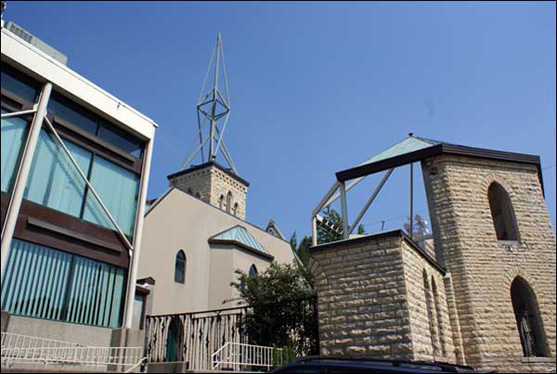 Something old, something new at Louisville church
After 1985 fire, Unitarian church transformed the space inside its gothic walls.
By Allison Bennett
Fall 2013 8.15.13
In 1985 another fire broke out, destroying most of the interior of the church. The architecture firm engaged by the church met with the congregation to hear members' thoughts about rebuilding. "While it was clear that most people wanted a more flexible, modern, and useful building that could accommodate various activities and groups, we also wanted to retain as much of the historical flavor of the building as possible," said Claudia Runge, president of the board of trustees and chair of the building committee at the time of construction.
The church's limestone walls, gables, and gothic arches were retained to keep much of the original look. Some of the outside was changed; the Italianate Victorian house next door that was owned by the church was incorporated into the building, and the roof and steeple were altered.
Almost everything changed inside. There is more room for religious education and meeting and greeting spaces, a new kitchen, a choir room, and an elevator. There are also modern stained glass windows, designed by Julia Wirick and made locally by Peter Eichhorn, which let in more natural light.
The final change was the addition of a twisting, 69-foot spire made of tubular steel atop one of the older buildings. Local artist Tom Butsch was commissioned to make the steeple with an open, artistic design. "I see the spire as a piece of contemporary art," said Runge. "It's clean and simple and looks a little bit off kilter from certain viewpoints."
The church is now listed in the National Register of Historic Places.
Runge said, "I think that the old and new together surprise the viewer in a delightful way. The open spire, the art glass windows, and the light in the sanctuary provide a message of openness to our visitors."
The principal design architect, John Grossman, was not a member of the church at the time of building but said he was so impressed with the faith that he and his family later joined the congregation. About the church's redesign, he said, "Architects all look for 'timeless,' and that is still my favorite sense of the place. Combining the old with the contemporary just feels authentic. Hopefully others can see our church that way."
See more photos of this church on UU World's Flickr page.
---
This article appeared in the Fall 2013 issue of UU World (page 11). Photograph (above) by Sonja L. Cohen. See sidebar for links to related resources.
Comments powered by

Disqus