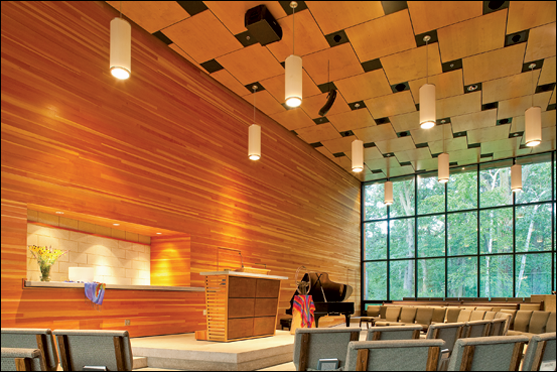 Minnesota church's expansion offers sustainable beauty
White Bear church pulpit and one wall's paneling were made from trees the church displaced.
By Sonja L. Cohen
Summer 2014
White Bear's minister, the Rev. Victoria Safford, says, "The project was driven by necessity—we had outgrown a small, outdated building—but it was inspired throughout by a longing to connect, with integrity, to the land."
Three-quarters of their site is protected wetland; the rest is woodland. The congregation struggled with the decision to remove some trees for the project, cutting as few as possible and incorporating the lumber in the new space. Oak panels on one wall of the Atrium came from trees that once stood on that spot. The same is true of the pulpit.
The sanctuary features Douglas fir paneling and large windows. Views and natural light are present throughout the building. Skylights and solar tubes reduce the need for artificial light, and stained concrete floors in the hallways and Atrium avoid the use of carpeting.
Outside, they installed solar panels and the state's largest permeable parking lot. The earthy, rust tone of the sanctuary's exterior is made of oxidized Cor-Ten steel, which requires little upkeep and will continue to change in appearance over the years due to further oxidization.
---
This article appeared in the Summer 2014 issue of UU World (page 10). Photograph (above): interior, White Bear Unitarian Universalist Church in Mahtomedi, Minnesota (Pete Sieger). See sidebar for links to related resources.
Comments powered by

Disqus