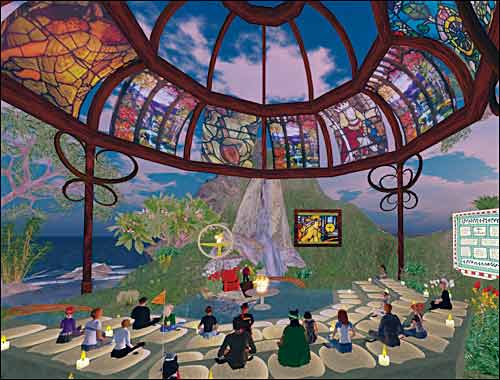 Spiritual landmark in Second Life
Building a Unitarian Universalist church in a virtual reality world.
By Jane Greer
Fall 2007 8.18.07
The outdoor worship space combines some of the elements traditionally found in UU sanctuaries, such as a pulpit, chalice, and flowers, along with such fantasy items as a gazebo-like structure supporting stained glass panels, a floating stained glass window that becomes a video screen, a waterfall, and a bridge. In stead of pews, three rows of mats line a pond.
The church is on Lovelace Island, owned by Lynne Whitehorn-Umphres, who created most of the island's landscaping. "The entire sim [large plot of Second Life land] is designed to use Japanese-garden-style forced perspective, hidden edges, and hidden scenes," she wrote in an email. She also said that the landscaping was designed keeping in mind that visitors, or avatars, can fly. "It was important that any approach to the sanctuary reveal details sparingly and progressively," she wrote. The island also includes some quiet spots for reflection.
The lay-led services draw 30 to 50 attendees. The sanctuary can accommodate 100.
George Byrd, the church's main founder, developed many of the elements in the sanctuary, including the waterfall and pond. "The waterfall represents the un ceasing flow of time," he wrote in an email. "We might stop and sleep, lay down to take a break, but the water always keeps rushing over the waterfall. The pond represents tranquility and mystery. The surface of the water may appear still, but we don't always know what lies beneath."
---
Photograph by Lynne Whitehorn-Umphres. See sidebar for links to related resources.