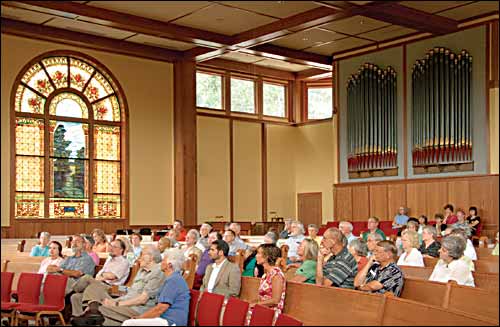 Recycling an old church
Elements from a 1911 church are incorporated into a new sanctuary.
By Jane Greer
Winter 2007 11.1.07
The 13,000-square-foot church was designed in the Prairie style, a style originated by Frank Lloyd Wright (raised by Unitarian parents) featuring flat roofs, open construction, and horizontal lines—said to relate to the Midwestern prairie landscape.
Set on a fifteen-acre lot, the church affords congregants a view of the woods. "A lot of our inspiration comes from nature," said the Rev. Michael Brown, the congregation's minister. Nature also played a role in deciding where to locate the building said Martha Diebold, who headed the building committee. "People agonized over where to situate the building because they wanted to protect the trees."
The new building has a sanctuary seating 400, ten religious education classrooms, a conference room, minister's study, library, and reception room area.
The new building gives the congregation the ability to "do more of everything," Diebold said. "We can host more activities and community events, and we can present more adult education programs."
The increased level of activity has resulted in greater visibility in the community and increased church vitality, Brown said. "In the last two years we've seen a significant increase in membership."
---
Photograph by Karanda Ziegler. See sidebar for links to related resources.