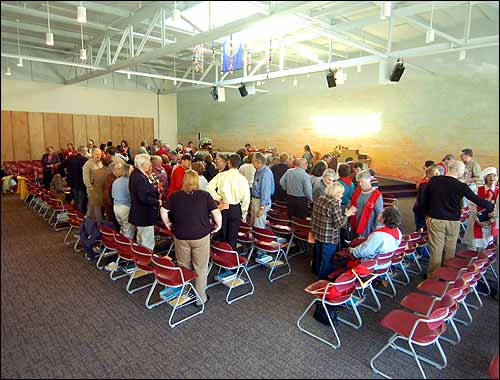 New London congregation has room to grow
Remodeled sanctuary features skyscape mural.
By Jane Greer
Spring 2008 2.15.08
The congregation purchased the property in 2006 when they started to outgrow their church building. Ironically, the new space, which is directly behind the old church, had once belonged to the congregation and was sold in 1948. But when the congregation started to look around for a new building to accommodate its growing numbers, the former property had it all: sufficient space with room to grow, an urban location, the capacity to become universally accessible—and ample parking.
Renovation of the building began in 2006, and it was dedicated in March 2007.
The sanctuary, which seats 300, is 3,200 square feet. A skyscape mural designed by congregant Ruth Sussler in shades of blue, orange, rose, and green extends 55 feet across the sanctuary's front wall. A skylight casts patterns of light on the mural on sunny days. Windows have replaced a garage door on the right wall of the sanctuary, affording a view of the state courthouse next door, as well as the congregation's former building.
In addition to the spacious sanctuary, the building has five religious education classrooms, a nursery, a library, and offices for the minister and church administrator. The congregation still owns the original church building, now being used as a drop-in center for homeless men and women.
The church's minister, the Rev. Carolyn Patierno, said the new space was one of the reasons that church attendance has been increasing. "We have space now to work, to worship, for learning, for outreach," she said. "This building has brought us such opportunity!"
---
Photograph by Sean D. Elliot. See sidebar for links to related resources.