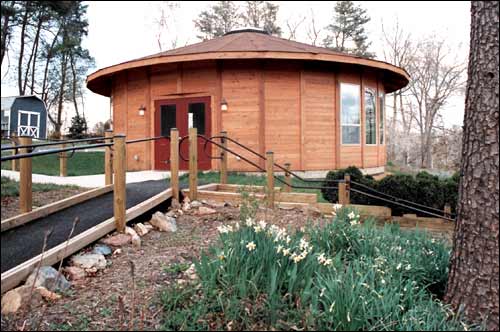 Maryland congregation meets in a yurt
Sugarloaf Congregation of Unitarian Universalists builds inexpensive new home.
By Jane Greer
Summer 2007 5.15.07
The Sugarloaf yurt, which is 34 feet wide, has a central skylight and eleven windows overlooking a pasture and woods. "The windows give congregants the sense of being close to nature," said the Rev. Amy Russell, Sugarloaf's minister.
The building was constructed of cedar using green building practices. It uses passive solar energy and radiant floor heating. The skylight, windows, and ceiling fans are used for cooling. The roof overhang was designed to enhance both heating and cooling capacities.
The yurt is on a five-acre property that already had a house on it when the congregation purchased it. Both the house and the grounds had to be developed for commercial use before the congregation could take occupancy, a process that took almost three years because of permitting complications. The house contains church offices, meeting rooms, and classrooms.
The yurt was constructed from a kit, costing almost $40,000, and was assembled by a team of carpenters and church volunteers in five days. It is attached to the main building by stairs and a ramp. The sanctuary seats up to eighty people.
The church's new property, its first, has generated a lot of excitement. "We are seeing members who had drifted as well as many newcomers who heard about the new facilities," said Sara Hull, board chair. "Already we feel a significant difference being in our own space."
---
Photograph by Victor Caldarola. See sidebar for links to related resources.