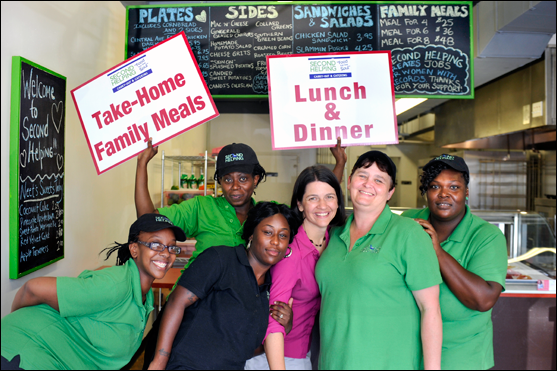 Restaurant gives women from prison a new start
Unitarian Universalist minister's work with imprisoned women grows into job program.
By Michelle Bates Deakin
9.30.13
The Rev. Melissa Mummert, a community minister in Charlotte, N.C., has dedicated the past decade to helping solve this conundrum, providing career and life coaching to female prisoners and now by helping to provide job opportunities for women released from jail and prison.
In August, she helped open a new takeout restaurant in downtown Charlotte run by women released from jail. Second Helping gives formerly incarcerated women valuable job skills, income, and new starts at life.
"I kept hearing the same theme from so many women: 'When I hit the jail door, I can't get a job, because there is so much employment discrimination against people with criminal records,'" said Mummert. Second Helping helps women leaving jail or prison land that all-important first job.
The café has regular customers—along with volunteer and financial assistance—from two Unitarian Universalist congregations in Charlotte, the Piedmont UU Church and the UU Church of Charlotte, with which Mummert is affiliated as a community minister.
Prior to opening the café, Second Helping operated two coffee carts, one in a Charlotte office building and another at a Goodwill store. Mummert wanted to find a way to offer positions to more women, so she decided to take a leap and open a restaurant.
Traffic at the takeout location, on Central Avenue between Plaza and Eastway, has been brisk, said Monique Maddox, manager of kitchen and catering operations. Fried green tomato casserole and shrimp and grits are among the customer favorites. "The collard greens are good. The mac and cheese is good," she added.
Second Helping also sells desserts made by Neet's Sweets, a local bakery owned by a former human trafficking victim who learned to bake to try to turn her life around. "We have sweet potato pie, red velvet cake, and pistachio cake with lemon icing," said Maddox.
Not surprisingly, Maddox said their best business is repeat customers.
Maddox hopes that the takeout counter can expand into a sit-down restaurant. That way they can expand their offerings and their hospitality. "We try to create the atmosphere that people love to come into even as a carryout," she said.
Maddox was serving jail time for a drug offense when Mummert met her. Mummert visits that same Charlotte jail every week, working to help the female inmates with life and job skills with support from a nonprofit called Changed Choices.
Maddox has worked at Second Helping since November 2011, when it opened its first coffee cart. She credits Second Helping with giving her opportunity. "Each and every one of us value our freedom today," she said. "I would never give it up."
She hopes that as Second Helping grows, her responsibilities will grow with it—perhaps becoming a project manager—so that her job as kitchen manager can go to another woman who needs it. Second Helping now employs seven women.
After leaving jail, Maddox lived in a Charlotte halfway house. Her roommate was Resa Treadaway, a member of the Piedmont church for 23 years.
Treadaway was sentenced to the halfway house after a felony charge for wire, internet, and computer fraud. "I was real nervous about going to a halfway house," Treadaway said. But she said her bunkmate, Maddox, was smiling and laughing, "and she talked about this Melissa Mummert lady."
After her guilty plea, Treadaway was able to commute to her sales job from the halfway house. She also had a background in catering, having worked at her mother's catering business during college, so she began to consult with Mummert as she was opening the coffee carts.
"I saw these women coming out of prison who didn't know how to do a resume. I saw the devastation that prison caused these folks," said Treadaway. "I knew I couldn't change the system, but if I could help one person, that was what I wanted to do." She says she's not proud of her record, but she's not hiding it, either.
Treadaway helped arrange one of Second Helping's first catering jobs at the Piedmont UU Church. "They've been very supportive of Second Helping and myself," she said. Church members can order carry-out meals during the week and have them delivered to church on Sunday for them to take home.
Mummert is grateful for the support of the UU community. "We talk so much about wanting to connect across race and class lines, and this is a really easy way to do that," she said. "I get to work with amazing women every day in the jail, and I would take the message out into the community through my community ministry, but this is a way that people can connect with folks across all lines just by going into a kitchen and getting some mashed potatoes and fried chicken."
It's an easy way for people to make a difference, Mummert said. "We need to eat. And this money goes straight back into the community to help women and families."
The opening of the restaurant is a long-awaited dream for Mummert. Having worked in prisons for 10 years, she's spent a lot of time looking at women in red jump suits, wondering whether there would be a place for them in the world.
"To see them in green, giving great customer service and great food, was tremendously moving to me," she said.
There were many points when, unsure of funding, she didn't know if the takeout restaurant would come to be. She credits team effort with helping it come to pass. "Our motto has been 'Leap and then it will appear,'" Mummert said. "If you wait until you feel confident around every piece, you never get anything done."
Mummert hopes that Second Helping can grow to be financially self-sufficient, without relying on grant funding and donations. That would allow them to open other sites and create more jobs with living wages.
Mummert knows she could easily fill her day with work at Second Helping. However, she is careful to retain time to continue to work with female inmates. "I jealously guard my work at the jails," she said. "It really motivates me when I see the lack of hope in the women there and the lack of opportunity. It reminds me of everything that we're doing with Second Helping."
---
Photograph (above): The Rev. Melissa Mummert (in pink) helped open the Second Helping café in Charlotte, N.C., which employs and trains formerly incarcerated women (Nancy Pierce). See sidebar for links to related resources.
Comments powered by

Disqus