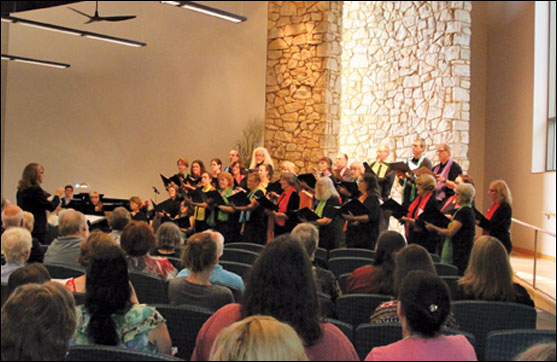 Sheltering the faith
Brief news items about congregational building programs.
By Michelle Bates Deakin
Winter 2013 11.4.13
Illinois church dedicates new sanctuary
DuPage Unitarian Universalist Church in Naperville, Ill., is celebrating the opening of its new sanctuary, part of a 9,500-square-foot addition to its building. UUA President Peter Morales spoke at the September dedication of the new sanctuary.
The old sanctuary is being reconfigured to expand space for religious education. The new 3,900-square-foot sanctuary provides much-needed new seating for the growing 300-member congregation. The addition uses many green building features, including highly efficient automated heating and cooling systems, recycled flooring from ash trees removed during construction, and a backdrop of local fieldstones, donated by a local conservation foundation. It also has water-conservation systems, including a rain garden and native landscaping. In recognition of its green efforts, duuc received the "Earth Flag" from DuPage County. duuc was certified as a green sanctuary by the UUA in 2009.
Rochester celebrates renovations
First Universalist Church of Rochester, N.Y., unveiled renovations to its historic sanctuary in a September celebration. Longtime member Beryl Haas had bequeathed money for the renovations.
Designed by architect Claude Bragdon in 1907, the sanctuary is listed on the National Register of Historic Places and is known for his use of arches, triangles, and patterns of three. Bragdon designed many of the stained glass windows, lights, and pulpit as well. Ed Deller, president of the congregation, said, "Our attention to detail as we refurbished the sanctuary demonstrates we are good stewards of our downtown gem. The importance of the church, though, reaches beyond the bricks and mortar." He said First Universalist contributes to the fabric of Rochester with its significant architecture, Welcoming Congregation, and its commitment to the rebuilding of the city as a vibrant place to live.
Spokane installs solar panels
The Unitarian Universalist Church of Spokane, Wash., has installed 75 solar panels, believed to be the largest church array in the state.
The congregation raised about $54,000 for the project. It also received a 10-year, interest-free $50,000 loan from SustainableWorks, a statewide nonprofit that funds energy-efficiency projects. A simultaneous project updated the church's heating, ventilation, and plumbing systems. With upgrades to the church's heating and ventilation systems, the church is expected to save more than $4,000 per year in energy costs.
---
Photograph (above): The DuPage UU church choir sang during a September service celebrating the new sanctuary (Dea Brayden). This article appeared in the Winter 2013 issue of UU World (page 44-45). See sidebar for links to related resources.
Comments powered by

Disqus