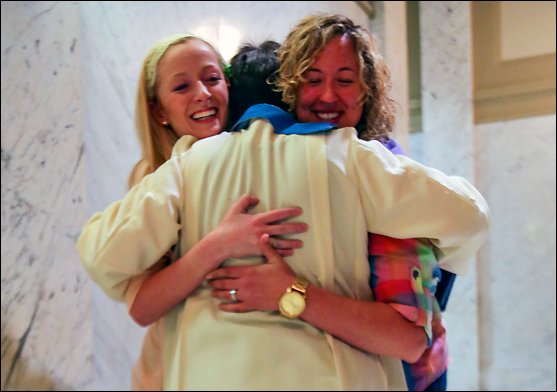 In Arkansas, UU minister marries 12 gay couples
The Rev. Jennie Barrington performs some of the first legal same-sex marriages in the Deep South.
By Elaine McArdle
5.19.14
The ruling by a Pulaski County circuit judge was in effect for less than a week, as the state attorney general—who has voiced his personal support for marriage equality—has for a stay with the state supreme court, which the court granted on Friday. Even as it stood, most of the state's county clerks refused to issue licenses to same-sex couples. Some clerks expressed concern and confusion over a separate law that may make it illegal for them to do so.
But early on Monday morning after the judge's historic decision, Barrington and officiants from other denominations, as well as some judges and several laypeople licensed to perform wedding ceremonies, were at the Pulaski County Courthouse offering their services to same-sex couples. Among the dozen whom Barrington married was a couple who had driven from Oklahoma. There were dozens of joyous supporters on hand offering hugs and taking pictures of the couples, she said, and only one protester who didn't stay long.
"I do feel there are strong parallels to the Little Rock Nine, who in 1957 simply wanted an education," said Barrington, referring to the nine African American students who were admitted to Little Rock Central High School under the protection of federal troops. "We all drive by Central High School all the time. It's an icon. I do think we are all influenced by the history in Little Rock and this state and the South as regards racial conflict. This is an opportunity to stand on the side of love and do the right thing, the respectful and supportive thing, rather than taking a stand blocking basic human rights."
Barrington, who has not been asked to marry any couples from within her congregation, said she has "the strong and happy support of members and friends of this congregation for what I did Monday. It's so meaningful to me and so essential that I have this congregation that gladly wanted me to do this."
---
Photograph (above): The Rev. Jennie Barrington, center, gets abear hug from Malleri Rhodes, left, and Jenna LaMaster, right, after Barrington married the couple at the Pulaski County Courthouse in Little Rock, Ark., Monday May 12, 2014 (AP Photo/The Arkansas Democrat-Gazette, Stephen B. Thornton). See sidebar for links to related resources, including the Rev. Jennie Barrington's first-person reflections on performing these historic wedding ceremonies.
Comments powered by

Disqus