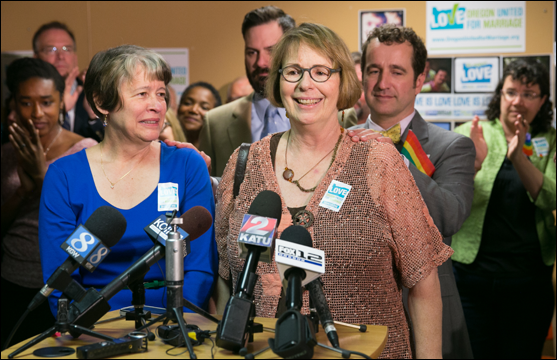 Oregon ends same-sex marriage ban
Unitarian Universalist minister says the weddings she performed are among 'highlights of my ministry.'
By Elaine McArdle
6.2.14
But the following week, on May 27, the National Organization for Marriage filed a motion with the U.S. Supreme Court and Justice Anthony Kennedy, the circuit judge for the Ninth Circuit Court of Appeals, seeking to stay the judge's ruling. In six other states, judges have declared bans illegal but marriages are on hold as appeals make their way through the courts. In Arkansas, for example, the state supreme court put a halt to same-sex marriages on May 16, one week after a county judge had authorized them.
In Portland, on the day Oregon's ban was lifted, the Multnomah County clerk's office immediately began issuing licenses and waived the three-day waiting period so couples could marry right away. Some were wed in the county courthouse, while more than 70 couples headed to a local venue, the Melody Ballroom, where six officiants, including the Rev. Kate Lore of First Unitarian Church of Portland, presided over dozens of weddings. More than 50 vendors donated their goods and services, from flowers to DJ-spun music, from cakes to pedicabs that transported beaming couples from the courthouse to the ballroom.
"It was overflowing with children and the joyful just-married, and it was one of the highlights of my ministry so far," said Lore, social justice minister for First Unitarian Church. "The level of euphoria was like nothing I'd ever seen, so I was deeply moved." Lore said that she also performed her first double-wedding ceremony for two lesbian couples, one together for 30 years, the other for 25.
That day, in Eugene, Ore., the Rev. Sydney A. Morris, developmental minister for the Unitarian Universalist Church in Eugene, married three couples at a local restaurant, the Davis, which donated space for the ceremonies after couples got their licenses at the local county courthouse. Eight clergy from various denominations officiated in weddings at the restaurant, Morris said.
The next day, a lesbian couple that Morris met on Monday at the courthouse came to the Eugene UU church with their two young children for a wedding ceremony that many church members showed up to witness. "It was such a poignant, beautiful, love-filled moment to have that wedding in our church," Morris said.
And at the Unitarian Universalist Fellowship of Corvallis, the Rev. Jill McAllister was among a coalition of local clergy who made themselves available to do same-sex weddings beginning Thursday. Thursday was the first day couples in the county could marry, since the court clerk in Benton County did not waive the waiting period. Since she became minister at the church last fall, McAllister had traveled several times to nearby Washington State, where same-sex marriage was already legal, to marry members of the church, trips that will no longer be necessary.
For UUs and other supporters of marriage equality in Oregon, the court decision—by U.S. District Court Judge Michael McShane, one of only a few openly gay federal judges—brought an end to a decade of difficulty. After a brief period when same-sex marriages were legal in Multnomah County, in 2004 the Oregon state constitution was amended by a voter resolution to define marriage as between one man and one woman. In his lengthy decision, Judge McShane ruled that the ban was an unconstitutional violation of Equal Protection because the state law discriminated on the basis of sexual orientation without any legitimate government interest for so doing.
Before and after the 2004 voter resolution, many UUs and other individuals and organizations, including Oregon United for Marriage, worked hard for marriage equality. The Portland church has some special connections to this civil rights struggle. Members Christine Tanner and Lisa Chickadonz were one of four couples that challenged the Oregon ban in a federal lawsuit. And the Rev. William G. Sinkford, senior minister, performed one of the nation's first-ever legal same-sex weddings 10 years ago, in Massachusetts.
---
Photo: Lisa Chickadonz, left, and Chris Tanner, right, members of First Unitarian Church of Portland, were plaintiffs in the challenge to Oregon's marriage ban (Photo: John Rudoff). See sidebar for links to related resources.
Comments powered by

Disqus