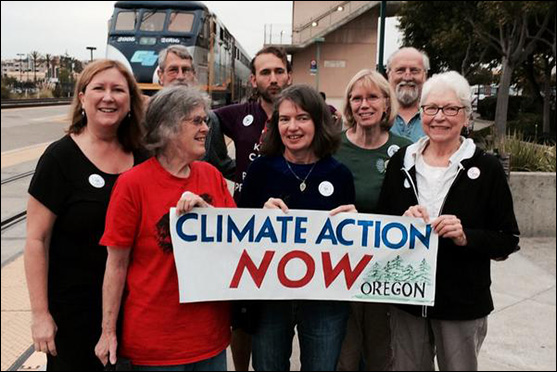 En route to the People's Climate March
Updates throughout the week from the People's Climate Train en route to New York City.
By Elaine McArdle
9.16.14
[Skip to the latest updates.]
Thousands of Unitarian Universalists are converging this weekend on New York City to join the
People's Climate March
demanding action on global climate change. Organizers expect the Sunday, September 21, march to be the largest climate march in history. More than 1,000 faith groups, businesses, unions, social justice groups, schools, and other organizations are participating in the march.
The Rev. Kate Lore, minister of social justice at First Unitarian Church of Portland, Ore., is traveling to New York this week with at least 40 UUs from Oregon aboard the People's Climate Train from San Francisco. Lore and five others from her congregation boarded the train on September 15 with UUs from congregations in Corvallis, Eugene, Ashland, and other Oregon communities. They arrive in New York on September 18.
Lore is live-tweeting her transcontinental trek at @katelore. UU World is collecting posts from Lore and other UUs in the Storify story embedded below. (Watch for the hashtags #climatetrain, #commit2respond, and #climatemarch.)
"There was a time everyone knew we had to go to Selma, and we all know it's time to go to New York City," said Lore. "There are enough changes in the weather that [climate change] has caught people's eyes, and we're also reaching a point where there's less and less we'll be able to do, so it's a very urgent time. We need to come out in large numbers to voice our sense of urgency and willingness to change our reliance on fossil fuels."
Next year's UUA General Assembly, in Portland, Ore., will focus on climate change. "We're finally rounding the corner on this," she said. "We have enough people who are concerned about the gravity of the situation."
The Unitarian Universalist Association and UU Service Committee are launching a climate change initiative called Commit2Respond at the march.
UUs will gather at the People's Climate March starting at 10:30 a.m. on Sunday, on 58th Street between 8th and 9th Avenues. Many will be wearing their Standing on the Side of Love T-shirts. RSVP here.
---
Photograph (top): Members of the UU contingent from Oregon prepare to board the People's Climate Train to New York City in San Francisco on September 15 (courtesy Kate Lore). See sidebar for links to related resources.
Comments powered by

Disqus