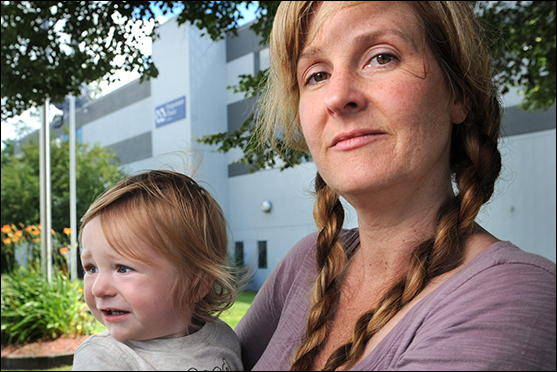 N.H. woman sues to breastfeed at work
Unitarian Universalist sues former employer, helps draft law requiring private space to breastfeed children.
By Elaine McArdle
2.2.15
Katherine "Kate" Frederick, a member of the Unitarian Universalist Fellowship of the Eastern Slopes in Tamworth, N.H., is suing her former employer, the New Hampshire Department of Health and Human Services, for refusing to allow her to breastfeed her son in a private space at work or drive to his nearby daycare center during work breaks to feed him there, and for then firing her when she wouldn't return to work without one of those accommodations.
Frederick was a child support officer at the state agency when she gave birth to Devon in May 2012. The New Hampshire Department of Health and Human Services is the state agency that, among other things, supports breastfeeding through various programs. It states on its website that "breast milk is the preferred and most appropriate source of nutrition for infants."
Frederick, who experienced significant health problems during pregnancy, was cleared by her medical provider to return to work part-time in July 2012. Since Devon would not take nourishment from a bottle, according to the lawsuit, Frederick requested to breastfeed him in the lactation room the agency provided for employees to express breast milk. The agency refused, although it would allow her to breastfeed her son in public, according to the lawsuit. Frederick then asked to be able to drive to her son's daycare center, three-tenths of a mile away, during her work breaks to breastfeed him. The agency refused this, too, even though it allowed other employees to leave the premises for other reasons, according to the lawsuit.
At a hearing in August 2012, after her maternity leave ended and Frederick had not returned to work, the agency again denied her request to breastfeed in the lactation room. Frederick was fired a month later. She is now doing breastfeeding advocacy work, including drafting a bill to expand breastfeeding rights in New Hampshire.
In September 2014, Frederick filed suit in U.S. District Court in Concord, N.H., making a number of claims against the agency, including a sexual discrimination claim. She alleges the agency violated Title VII of the Civil Rights Act of 1965 by treating lactating employees who needed to take a work break less favorably than non-lactating employees who took breaks. The suit also alleges that the agency violated the federal law that requires employers to provide employees a private place to express breast milk because it refused to allow her to nurse her child there, according to her lawyer, Benjamin King.
The state has filed a motion to dismiss all the claims in the lawsuit. Among other things, it argues that federal law requires a place for expressing milk but not for breastfeeding. Mary Ann Dempsey, assistant state attorney general representing the agency, said a hearing on the motion to dismiss has not yet been scheduled. She referred other questions to the state's pleadings.
Last February, Frederick helped draft a proposed bill, named Devon's Law after her son, that would require employers in New Hampshire to provide a space for employees to express milk or breastfeed their children. State Representative Edward Butler sponsored the bill. Like Frederick, Butler is a member of the UU Fellowship of the Eastern Slopes. The bill was not successful, but Frederick has redrafted it. The new bill is being sponsored by State Senator Martha Fuller Clark, with Butler as co-sponsor.
"It is only reasonable that women who have recently given birth and are breastfeeding have the opportunity to do so in a safe and clean environment," Butler told UU World, "so they can continue to do the work that's needed but can also take care of their baby's needs."
In December, Frederick spoke about breastfeeding rights at a rally on the steps of the U.S. Supreme Court in support of Peggy Young, whose pregnancy discrimination case against United Parcel Service was being heard by the high court. The Unitarian Universalist Association paid for Frederick's airfare to attend the rally, said Jessica Halperin, a UUA Witness Ministries program associate. Halperin said Frederick's campaign is related to the UUA's 2012–2016 Congregational Study/Action Issue, "Reproductive Justice: Expanding Our Social Justice Calling."
Frederick was also a featured speaker at a national breastfeeding conference in Washington, D.C., in August, and she is featured in a new documentary about breastfeeding, The Milky Way: Every Mother Has a Story.
"I think families have to decide if breastfeeding is important to them or not," Frederick told UU World. "We certainly decided that it is, and I feel it should be supported because it's a public health issue and a women's rights issue and an issue about fair treatment in the workplace."
---
Photograph (above): Kate Frederick is suing her former employer and helping to draft legislation to ensure that a woman's right to express breast milk in the workplace includes the right to breastfeed her child (©Fred Field). See sidebar for links to related resources.
Comments powered by

Disqus