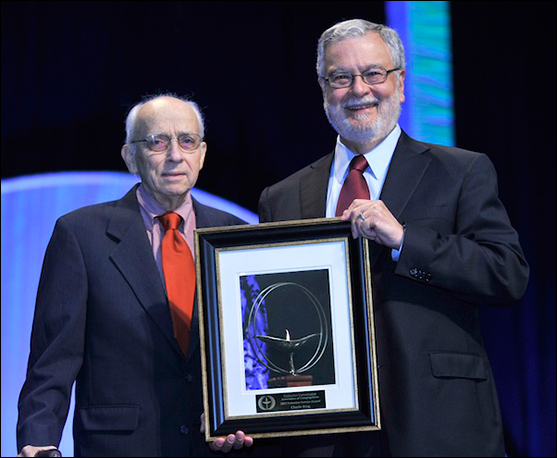 Charlie King receives President's Award for Volunteer Service

By Michelle Bates Deakin
6.22.13
UUA President Peter Morales presented the award, calling King "a strong and tireless advocate for racial equality, for the rights of people with disabilities, for creating a culture of generosity to support Unitarian Universalism well into the future."
King has been a leader at his Brooklyn congregation and in the association for decades. As president of this congregation, he helped smooth relationships with UUA leadership and the Black Caucus.
His service on the General Assembly Planning Committee reshaped GA in many ways. He was instrumental in incorporating daily worship and in developing accessibility services at GA. Most recently, he served on the UUA Board for nearly eight years.
King began to embrace Unitarian Universalism in 1955, when he wrote a story in support of integration for his college newspaper. The dean confiscated the essay and destroyed it prior to publication. But, Morales said, "Charlie and his friends went through the trash, pieced together a proof and brought it to the local paper. The next morning it was published, picked up by the Associated Press, and plastered across the country." With the year, King joined a UU church and became a lay minister.
Along with the award, and a plaque, the UUA will give $1,000 to a charity of King's choice.
Photograph above: Charlie King receives the Volunteer Service Award. © 2013 Nancy Pierce/UUA