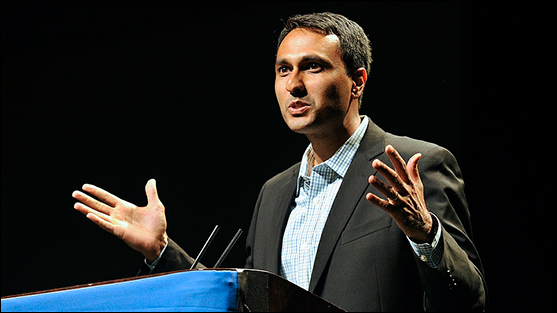 Eboo Patel urges interfaith involvement

By Donald E. Skinner
6.21.13
Acts of Faith
, published by Beacon Press. The book is the UUA 2011-12 Common Read. Patel is also founder and executive director of the Interfaith Youth Core, an international, nonprofit youth service leadership organization. He spoke at GA in 2008 as well.
Patel invited his listeners to engage in interfaith work. Such work is not easy, he cautioned, but it is rewarding. "What happens when you explain to someone at an interfaith Habitat for Humanity build that you believe the different religions are like light coming through the various windows in a cathedral and the person you are speaking to shakes his head and says there is only one light and one window? Jesus Christ, Lord and Savior. An interfaith leader recognizes that not everyone is going to have the same theology of interfaith cooperation. An interfaith leader works to understand the other person's theology while gently articulating her own."
He added, "We need exceptional people who are able to hold the tensions here in a way that binds together rather than breaks apart, people who are willing to lead with their chin and take a punch. That's you. In fifteen years of doing this work, here's what I can promise. It is worth it, but it is not easy."
It is helpful, he said, to remember that interfaith work is not just civic, but also sacred. "It is something you UUs know deeply. Nurturing positive relations between people with deep disagreements is holy."
Watch the lecture or read the text here.
Photograph above: 2013 Ware Lecturer Eboo Patel (© Nancy Pierce).