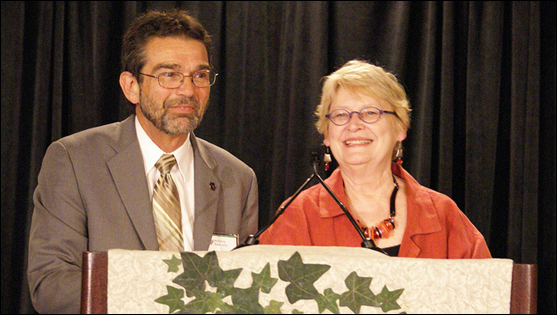 UUMA gives honorary membership to Kay Montgomery

By Michelle Bates Deakin
6.20.13
The UUMA recognized Montgomery for her 30 years of service to the UUA, including 28 years as executive vice president to four UUA presidents. The Rev. Dr. William F. Schulz, who named Montgomery executive vice president upon his election as UUA president in 1985, formally nominated her for the honorary status with former UUA President John Buehrens at his side.
UUMA members collected money to contribute toward a building fund, which will name a room at the UUA's new headquarters at 24 Farnsworth Street in Boston for Montgomery.
The UUMA also named a perpetual scholarship in Montgomery's honor for a minister to attend the biannual UUMA Institute free of charge.
Finally, as the UUMA inducted Montgomery as an honorary member, the UUMA gave her a shawl—a wrap that resembles a minister's stole.
Thanking the ministers for the honor, Montgomery pointed to several ministers in the room whom she had known for decades. With a knowing smile, she added, "I may not be sending you money, but I have paid my dues!" The clergy laughed, clapped, and gave her an extended standing ovation.
Photograph (above): UUMA President Bill Hamilton-Holway and retiring UUA Executive President Kay Montgomery (© Christopher L. Walton). With additional reporting by Christopher L. Walton.