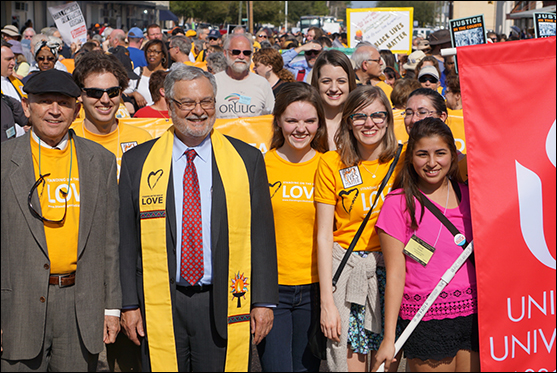 In Selma, 'we are your partners forever'
More than 500 Unitarian Universalists join 50th anniversary march in Selma, Alabama, March 4–9, 2015.
By Christopher L. Walton And Elaine McArdle
3.6.15
Among those who returned were the Rev. Orloff Miller and the Rev. Clark Olsen, two Unitarian Universalist ministers who flew to Selma as soon as the Rev. Dr. Martin Luther King Jr. called on religious leaders from across the nation to join the protesters in Selma. On March 9, 1965, white assailants attacked them and the Rev. James Reeb near Walker's Cafe in Selma. Reeb died of his injuries.
Miller led the UU contingent at the anniversary march from a wheelchair. Olsen and the Rev. Peter Morales, president of the Unitarian Universalist Association, represented UUs in a worship service at Brown Chapel AME Church, where Attorney General Eric Holder, the Rev. Jesse Jackson, and the Rev. Al Sharpton were among the speakers. Morales addressed the church briefly at the start of the service, saying, "We are your partners forever."
For the first time in 50 years, Marie Reeb, James Reeb's widow, returned to Alabama and the site of her husband's attack. Their five children and spouses, their grandchildren, and their great grandchildren also came to the site, where a memorial sign and mural mark Reeb's death. On March 6, the UUA presented the Reebs with a Courageous Love Award, honoring Reeb's sacrifice. "We cherish the UUs," daughter Anne Reeb said as her family received the award. "We cherish just being a part of a greater family that stands for justice."
The UUA also presented Courageous Love Awards to the families of two other martyrs of the Selma campaign. Emma Jean Jackson received one honoring her older brother, 26-year-old black voting rights activist Jimmie Lee Jackson, who was fatally shot by a police officer in Marion, Ala., in February 1965.
And the UUA honored the family of Viola Liuzzo, the white Unitarian Universalist laywoman who came to Selma from Detroit and was murdered by the Ku Klux Klan. Two of Liuzzo's daughters, Penny Herrington and Sally Liuzzo, accepted the award.
UU veterans of the 1965 campaign came to Alabama for a three-day conference sponsored by the Living Legacy Pilgrimage and the UUA called "Marching in the Arc of Justice: Revisiting Selma." They and 400 other registrants heard from prominent figures from voting rights movements past and present. The Rev. Dr. C.T. Vivian, the advocate of nonviolent resistance who helped train the students who led sit-ins in segregated restaurants in the early 1960s, told UUs, "There are only three important words: justice, truth, and love."
The Rev. William Barber II, architect of the Moral Mondays voting rights campaign in North Carolina, offered a crash course in progressive mass movement organizing. New efforts by conservative Republican legislatures to restrict voting through limited hours, ID requirements, and other measures require organized and sustained opposition from the public, Barber said. "We need moral dissent like never before."
"The heart of our nation needs reviving," Barber said. "Somebody needs to call 'Code Blue,' and everybody comes running!"
Opal Tometi, one of the three founders of the Black Lives Matter movement, described a new generation of black leaders in her keynote address to the UU conference, which was held in Birmingham. "It is time to do away with 'respectability politics,'" she said. "We won't be blamed for being a woman, or trans, or queer. We won't be blamed for being poor, or wearing a hoodie."
Videos of the keynote addresses from the "Marching in the Arc of Justice" conference are available on YouTube.
"This conference has been healing," said 19-year-old Ayaan Natala, an African-American college student and Black Lives Matter activist from St. Paul, Minn. She came to the conference at the invitation of Unity Church-Unitarian in St. Paul. Natala said she realized that to stay strong over the long struggle for justice, she needs "a spiritual foundation to do this work." "I can literally feel the torch being thrown to me," she said, "and that's why I'm here."
Nearly 100 UUs gathered in a Selma park Sunday afternoon to wait for a caravan of nine buses, carrying 500 more. Although their numbers were soon overwhelmed by the tens of thousands of African Americans who had come to Selma with other civic or religious groups, UUs were easy to spot in their bright yellow Standing on the Side of Love T-shirts.
Harold Ford, now a member of the UU Congregation of Flint, Mich., was a college student in 1965 who was so upset by the images of Bloody Sunday on TV that he and eight college friends jumped in a car and headed to Montgomery. They stayed in the homes of black families and did voter registration while waiting for the marchers from Selma to arrive. "It was unforgettable, a life-changing event," Ford said. On Sunday he was with busloads of UUs who ate lunch at St. Jude Educational Institute in Montgomery. Fifty years earlier, he had attended the concert there during the march. Of his experience in 1965, he said, "I'd never been more frightened to that point, nor since, but I think of the black citizens who lived a lifetime of that fear." He came back, he said, "because it seems like the right thing to do."
---
Comments powered by

Disqus