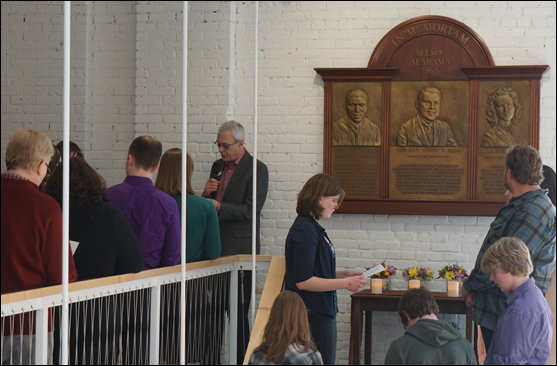 UUA rededicates Selma memorial at Boston HQ
Bronze monument commemorates three civil rights martyrs killed in Alabama in 1965.
By Christopher L. Walton
4.6.15
The UUA commissioned the bronze monument—which features bas-relief busts of Jimmie Lee Jackson, the Rev. James Reeb, and Viola Gregg Liuzzo, who were killed in 1965—for its headquarters on Beacon Hill in 2001. When the UUA moved into its new headquarters on Farnsworth Street in 2014, the memorial was reinstalled in a prominent spot near the staff chapel.
Jackson, a black voting rights activist, was fatally shot February 18, 1965, by an Alabama state trooper after police violently disrupted a civil rights march in Marion, Ala.
Reeb, a white Unitarian Universalist minister from Boston, was among the ministers who went to Selma after police attacked marchers on the Edmund Pettus Bridge on March 7, 1965. He was fatally assaulted by white civilians in Selma on March 9. His death two days later provoked national outrage.
Liuzzo, a white Unitarian Universalist from Detroit, drove to Selma after Reeb's death to volunteer. A car full of Ku Klux Klan members (and an undercover FBI informant) shot and killed her the night after the conclusion of the march from Selma to Montgomery.
At the end of a March 31 staff chapel service, the Rev. Harlan Limpert, chief operating officer of the UUA, gathered staff around the memorial to read a litany of rededication. "We must name our debt to their lives and deeds, their bereaved families and friends, a debt paid only by our continuing the struggle," Limpert said.
During the chapel service, staff watched excerpts of a video of the presentation earlier in March of Courageous Love Awards to the families of Jackson, Reeb, and Liuzzo, who had come to Birmingham and Selma, Ala., at the invitation of the UUA.
---
Photograph (above): The Rev. Harlan Limpert leads UUA staff in reading a litany of rededication for a memorial to Jimmie Lee Jackson, the Rev. James Reeb, and Viola Liuzzo in the Boston headquarters of the Unitarian Universalist Association on March 31, 2015 (Chris Walton/UUA). See sidebar for links to related resources.
Comments powered by

Disqus