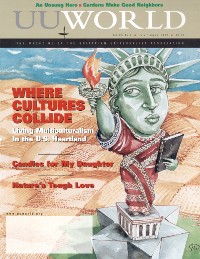 opening words
The Human Choice
Love is a choice — not simply, or necessarily, a rational choice, but rather a willingness to be present to others without pretense or guide. Love is a conversion to humanity — a willingness to participate with others in the healing of a broken world and broken lives. Love is the choice to experience life as a member of the human family, a partner in the dance of life.

— T
HE
R
EV.
D
R.
C
ARTER
H
EYWARD
Professor of theology at the Episcopal Divinity School in Cambridge, Massachusetts, and author of
Our Passion for Justice: Images of Power, Sexuality, and Liberation
(Pilgrim Press, 1984), in which this passage appears.
JULY/AUGUST 2002 FEATURES
The Middle of Everywhere
A surprising number of refugees now call Lincoln, Nebraska, home. Their stories help us see the new multicultural face of America. / BY MARY PIPHER
How To Be a Cultural Broker
You can help new immigrants find a place in your community by reaching across cultural divides.
Storms Facing West
Bob West led the UUA through financial trouble, racial controversy, and political tumult. Meet the "unsung hero" of the UUA. /BY WARREN R. ROSS
Rite of Passage
A mother's quest to mark her daughter's coming-of-age leads, unexpectedly, to a mountain in Spain. /BY MARYANN WOODS-MURPHY

On the cover: Illustration by Mark Steele.