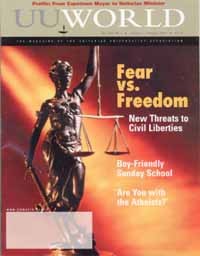 opening words
Spiritual Freedom
I call that mind free, which sets no bounds to its love, which is not imprisoned in itself or in a sect, which recognizes in all human beings the image of God and the rights of his children, . . . which, through confidence in God and in the power of virtue, has cast off all fear but that of wrong-doing, which no menace or peril can enthrall, which is calm in the midst of tumults, and possesses itself though all else be lost.
— THE REV. WILLIAM ELLERY CHANNING 1780-1842
The minister of Boston's Federal Street Church has been called "the father of American Unitarianism" for the sermon that rallied theological liberals under the Unitarian name in 1819. From his sermon, "Spiritual Freedom" (1830), in William Ellery Channing: Selected Writings (Paulist Press, 1985); an excerpt appears as Reading 592 in Singing the Living Tradition.
features JANUARY/FEBRUARY 2003 · VOL XVII NO 1
Fear vs. Freedom
Living by Our Faith · Fear is sometimes the appropriate response to the world around us, but it must be leavened by faith. /BY TOM STITES
Fear of Freedom · The threat of terrorism is real. How do we weigh our desire for safety against threats to our civil liberties? /BY WENDY KAMINER
A Victory for the Heretics · Unitarian Universalist Ellery Schempp helped win a historic victory for constitutional freedoms in public schools. /BY KIMBERLY FRENCH
What You Can Do · Help your congregation get involved in the UUA Study/Action Issue on civil liberties. /BY JANE GREER
Boy-Friendly Sunday School
Our religious education programs may not be meeting the needs of boys, and religious educators are talking about solutions. /BY NEIL CHETHIK
'Are You with the Atheists?'
A Unitarian Universalist attends the annual conference of American Atheists in order to be, for once, the most religious person on the premises. /BY DAN KENNEDY
On the cover: Photograph by D. Boone/Corbis.