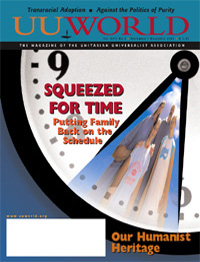 features
NOVEMBER/DECEMBER 2003 · VOL XVII NO 6
Squeezed for Time
COVER STORY As families juggle work, school, sports events, music lessons, and clubs, they look for ways to balance busy-ness with time to be together. /BY DAVID WHITFORD
SOCCER BRINGS FAMILIES TOGETHER /BY EMMA WHITFORD
RECLAIM YOUR FAMILY TIME /BY WILLIAM J. DOHERTY

Against Political Innocence
The author is afraid we have consistently underestimated the systems we oppose and overestimated our own skill and willingness. /BY ROSEMARY BRAY MCNATT
Our Humanist Legacy
Assessing the impact of the seventy-year-old Humanist Manifesto on our religious movement. /BY WILLIAM F. SCHULZ
---
reflections
Commentary. Try straight guys for gay marriage /BY RICHELLE C. RUSSELL
Interpretation. Soul medicine /BY SUZANNE MEYER
Wayside Pulpit. Truth /BY HAN SUYIN
Creations. Courtyard in Autumn, Fellowship House in Summer, Nature Trail in Winter, Meditation Garden in the Spring /BY DAISY GRUBBS
Poem. Starlings in winter /BY MARY OLIVER
Encounter. Never far from home /BY CARL SCOVEL
Wisdom. The soul /HERACLITUS
Heritage. The human infinite /BY R. LESTER MONDALE
Affirmation. Elevator Speeches
Inside Out. Cartoon. /BY CHARLES BARSOTTI
Testimony. /COMPILED BY JOHN A. RAKESTRAW JR.

---
departments
Opening Words. /BY PHILIP SIMMONS
From the Editor. What's new in UU World /BY TOM STITES
Our Calling. Reclaiming democracy /BY PRESIDENT WILLIAM G. SINKFORD
Letters. Supporting the troops · Process theology · Spreading the word /BY OUR READERS
Forum. We are all self-employed /BY CLIFF HAKIM
Bookshelf. Science and its metaphors /BY CHRISTOPHER L. WALTON
Books to Note. Novels by UU authors /BY KENNETH SUTTON
Congregational Life. Transracial adoption enlarges congregations /BY JANE GREER
Spiritual Landmark. The First Unitarian Church in St. Louis, Missouri. /BY DONALD E. SKINNER
What in the World? Discussion topics on UU World articles /BY JANE GREER
Looking Back. Liberal Religious Youth merged fifty years ago /BY DEBORAH J. POPE-LANCE
---
news
UUA News. Canadian UUs give sanctuary to 3 /BY JANE GREER
Social Witness.
Alabama UU protests monument /BY JANE GREER
UUs fight for free speech in Salt Lake City
UU Trend. UU young adult population grows in number and voice /BY DONALD E. SKINNER
UUSC. UUSC chooses Clements as next president
In the Congregations.
Kansas City forum anniversary
Harry Potter attracts Florida UUs
Living the Faith. Church shares its human resources /BY DONALD E. SKINNER
International. Transylvania high school choir delights audiences, hosts
Religion News. Christians culturally divided /BY JOHN A. RAKESTRAW JR.
Milestones. Obituaries for Francis C. Anderson, Maryell Cleary, R. Lester Mondale, Rhys Williams
Not every article in the printed magazine is published on-line. Back issues of the magazine are available for $4.50; photocopies of selected articles are also available. E-mail world@uua.org or call (617) 948-4693 for more information.