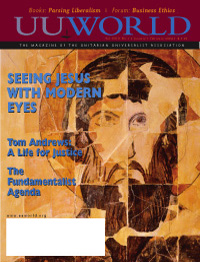 features
JANUARY/FEBRUARY 2004 · VOL XVIII NO 1
Seeing Jesus with Modern Eyes
The accretions of centuries—cultural, religious, political—often obscure the kernels of truth to be found in the person of Jesus. /BY ERIK WALKER WIKSTROM
The Fundamentalist Agenda
The ancient and powerful impulse to create stability must be humanized by liberalism. /BY DAVIDSON LOEHR
A Life Committed to Justice
For three decades Tom Andrews has been at the forefront of movements for peace and justice. /BY KIMBERLY FRENCH
---
reflections
Commentary. Human rights and the evil of terrorism /BY WILLIAM F. SCHULZ
Wayside Pulpit. Life /CHINESE PROVERB
Creations. Gynergy /BY ELIZABETH A. DION
Encounter. Go in by going out /BY MARY BLOCKSMA
Creations. Pieces of eight /BY CORY JAEGER
Poem. Testament /BY SALEEM PEERADINA
Pilgrimage. Sacred fire, ritual play /BY CHRISTOPHER BROWN
Creations. Ebb and flow /BY JANE M. ROHRBACH
Affirmation. Elevator speeches
Meditation. Haiku blues /BY SYLVIA FORGES-RYAN AND EDWARD RYAN
Inside Out. Cartoon. /BY CHARLES BARSOTTI
Testimony. Religious voices in the news /BY JOHN A. RAKESTRAW, JR.
---
departments
Opening Words. /BY THEODORE PARKER
From the Editor. Now hear this! /BY TOM STITES
Our Calling. Calling all congregations! /BY PRESIDENT WILLIAM G. SINKFORD
Letters. /BY OUR READERS
Forum. Business ethics beyond the classroom /BY JUDITH F. SAMUELSON
Bookshelf. Talking about the "L-word" /BY CHRISTOPHER L. WALTON
Living Tradition. Taste of joy /BY MATTHEW GATHERINGWATER
Books by UU Authors. /COMPILED BY KENNETH SUTTON
Congregational Life. Congregations engage with prison issues /BY DONALD E. SKINNER
Spiritual Landmark. The Unitarian Church of Harrisburg, Pennsylvania /BY DONALD E. SKINNER
What in the World? Discussion topics on UU World articles /BY JANE GREER
Looking Back. Famous consultant and forgotten minister /BY JOHN BUEHRENS
---
news
UUA.
UUs celebrate marriage decision /BY JANE GREER
Board chooses interim moderator /BY TOM STITES AND DEBORAH WEINER
Belt tightening continues in fiscal year '04
Living the Faith. Environmentalist helps people look 'upstream' /BY DONALD E. SKINNER
In the Congregations. California wildfire victim: "It makes you humble"
Welcoming Denomination. UU alternative to Boy Scouts aims to go national
UU Trend. Pay raises for religious educators, thanks to grants /BY DONALD E. SKINNER
Political Action. Laws threaten reproductive freedom rights /BY ROB KEITHAN
Religion News. Is God a team player? /BY JOHN A. RAKESTRAW JR.
Milestones. Obituaries for Duncan Howlett, Lee Huebert, Louise A. Robeck, Robert L. Zoerheide
Not every article in the printed magazine is published on-line. Back issues of the magazine are available for $4.50; photocopies of selected articles are also available. E-mail world@uua.org or call (617) 948-4693 for more information.


---