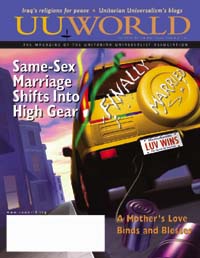 features
MAY/JUNE 2004 · VOL XVIII NO 3
Same-Sex Marriage
COVER STORY Recent events across the United States reflect decades of changing cultural attitudes. /BY NEIL MILLER
SIDEBAR On the Grand Staircase /BY LORRAINE SANDERS
SIDEBAR Gay rights timeline
BOOKS: Vermont's civil union wars /BY CHRISTOPHER L. WALTON
NEWS: Mass. UUs defend right to wed /BY JANE GREER
Nationwide response to marriage issue
Distinctive voices in the debate /BY JOHN A.
RAKESTRAW JR.
Contesting a constitutional amendment
A Mother's Bond
Grief and recovery transform the author's relationship with her mother. /BY BARBARA HAMILTON-HOLWAY
No Formulaic Hero
Kathy Mulvey of INFACT draws on her Unitarian Universalist faith to sustain her activism. /BY BELLA ENGLISH
---
reflections
Commentary. This time, I'll pray without ceasing /BY TOM GOLDSMITH
Wayside Pulpit. Compromise /BY JANIS JOPLIN
Encounter. Impromptu mourner /BY MARCIA ALDRICH
Creations. Dreaming Iris /BY CHARLES MITCHELL
Worship. Beltane blessing /BY GAIL DUFF
Meditation. We build temples in the heart /BY PATRICK MURFIN
Offering. Wampum, not gold /BY ROBERT A. THAYER
Creations. The Road to Agra /BY JOYCE MARQUESS CAREY
Affirmations. Elevator speeches
Inside Out. Cartoon /BY CHARLES BARSOTTI
Testimony. Religious voices in the news /BY JOHN A. RAKESTRAW, JR.
---
departments
Opening Words. /FROM THE WEDDING OF DOUGLAS NEFF AND COREY ROTHERMEL
From the Editor. Writing from religious roots /BY TOM STITES
Our Calling. Come set the Association's agenda /BY PRESIDENT WILLIAM G. SINKFORD
Letters. /BY OUR READERS
Contributors.
Forum. Religions for Peace at work in Iraq /BY HELIO FRED GARCIA
Congregational Life. Youth as congregational leaders /BY DONALD E. SKINNER
Spiritual Landmark. The Unitarian Universalist Church of Buffalo, New York
Bookshelf. Learning from Orthodox Judaism /BY ELIZABETH A. LERNER
Living Tradition. Vermont's civil union wars /BY CHRISTOPHER L. WALTON
Books by UU Authors. /COMPILED BY KENNETH SUTTON
What in the World? Discussion topics on UU World articles /BY JANE GREER
Looking Back. Landmark desegregation ruling at fifty /BY GORDON D. GIBSON
---
news
UUA.
Mass. UUs defend right to wed /BY JANE GREER
Nationwide response to marriage issue
New role for lay leaders at GA
Religion News. Distinctive voices in the debate /BY JOHN A. RAKESTRAW JR.
Political Action. Contesting a constitutional amendment
Music notes.
CD celebrates a love of the land
New hymnal supplement due in 2005
Social Witness.
UU-inspired group marks decade of success
Program gets books to prisoners
Election guidelines for churches
UU Trend. Blogs gain popularity among UUs
Milestones. Obituaries for John W. Brigham, Nathaniel Lauriat, Duncan E. Littlefair, R. Paul Mueller, William Jennings Peterson Jr., Norma G. Veridan
Not every article in the printed magazine is published on-line. Back issues of the magazine are available for $4.50; photocopies of selected articles are also available. E-mail world@uua.org or call (617) 948-4693 for more information.


---