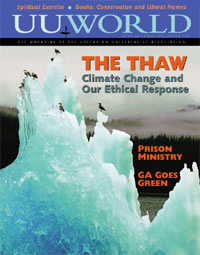 features
MAY/JUNE 2005· VOL XIX NO 3
Energy and Ethics
Climatologists agree Earth is heating up, but many Americans have not confronted the ethical challenges of global warming: Our way of life endangers millions of people. /BY JON LUOMA
Why I Go To General Assembly
It's the cure for "denominational shallowness." /BY GREG HINES
Ministry Behind Bars
The message of inherent worth and dignity speaks to inmates as UU pen pals and chaplains reach out./BY WARREN R. ROSS
---
reflections
Affirmation. This little life of mine
Encounter. Kindness and hope
Meditation. Bubbles of earth
Worship. Beltaine (May 1)
Testimony. Creations. Inside Out.
---
departments


Opening Words.
From the Editor. UU World announces changes in frequency
Our Calling. Is the UU glass half full or half empty?
Letters.
Forum. Exercise as spiritual play
Bookshelf. Making sense of the conservative worldview
Bookshelf. Notable Recordings
Bookshelf. Interview: Paul Kendrick's ambitious first book
Congregational Life. Raising money through home hospitality
What in the World? Global warming, prison ministry, and metaphors
Looking Back. Hosea Ballou's Universalist manifesto
---
uu news
Valentine campaign in California
UU evangelism fosters new church growth
Living the Faith.
Wilderness chaplain wears a uniform
Interconnected Web.
Podcasting helps spread UU message
International.
Unitarian Universalist tsunami donations exceed $1.5 million
Latin American UUs assemble to form AUULA
In the Congregations.
South Carolina kids honor MLK
Fellowship named for Goodloe
Reston banners destroyed twice
Large churches meet in Boston
UUA.
Financial advisor Ladd departs
Milestones.
Political Action.
Sex ed comes under fire in Washington
UUA Elections.
Candidates in General Assembly races

Not every article in the printed magazine is published on-line. Back issues of the magazine are available for $4.50; photocopies of selected articles are also available. E-mail world@uua.org or call (617) 948-4693 for more information.

UU World
---