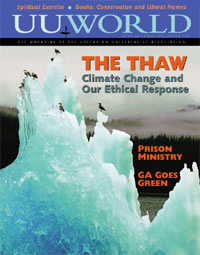 opening words
O Earth, you are surpassing fair.
From out your store we're daily fed,
We breathe your life-supporting air
and drink the water that you shed. . . .
Has evolution been in vain
that life should perish ere its prime?
Or will we from our greed refrain
and save our planet while there's time?
— THE REV. JOHN ANDREW STOREY (1935-1998)
features
Energy and Ethics
Climatologists agree Earth is heating up, but many Americans have not confronted the ethical challenges of global warming: Our way of life endangers millions of people./BY JON LUOMA
What You Can Do
Why I Go To General Assembly
It's the cure for "denominational shallowness."/BY GREG HINES
SIDEBAR A Greener General Assembly
Ministry Behind Bars
The message of inherent worth and dignity speaks to inmates as UU pen pals and chaplains reach out./BY WARREN R. ROSS
SIDEBAR Reforming a System in Crisis