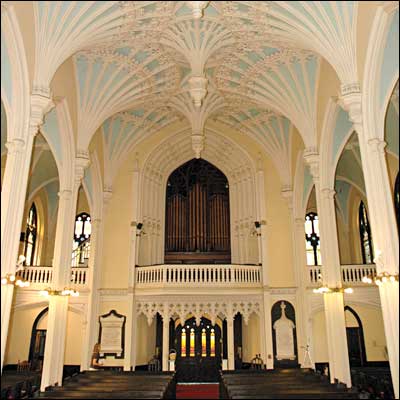 Gothic ornaments crown a S.C. Unitarian church
Historic landmark draws visitors, TV cameras.
By Jane Greer
Spring 2010 2.15.10
Now designated as a national historic landmark, the church was originally built in 1772 to handle the overflow from another church, the Society of Dissenters. In 1817 the overflow congregation separated from its parent church and became the Second Independent Church of Charleston. In 1839 it was rechartered as the Unitarian Church in Charleston.
Some of the congregation's 270 members are trained as docents to conduct tours of the building on Fridays and Saturdays, September through May. The church was used for the filming of two episodes of Lifetime Television's Army Wives show in 2009, which depicted a UU child dedication ceremony (see UU World, Winter 2009).
---
Photograph by Tony Diz. See sidebar for links to related resources.