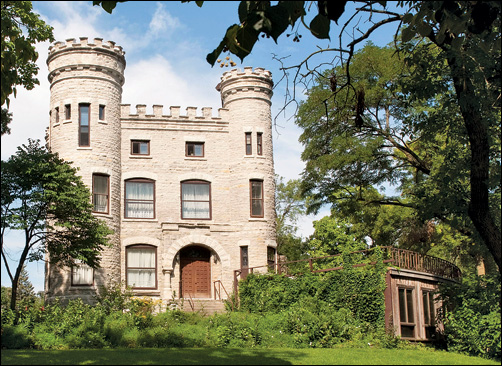 A towering stronghold
Beverly, Illinois, Unitarian Universalists worship in a castle.
By Julia Angley
Winter 2011
Beverly Unitarian Church
have towered over Chicago's South Side for 125 years. Built in 1886, the Givins' Irish Castle is Chicago's last standing castle and is named after its original architect and owner Robert Givins.
Over the years, the castle has served as a residential home to three different families and as a women's seminary. In 1942, the newly founded Beverly Unitarian Fellowship purchased the building and began its transformation into a sacred space.
The small size of the castle presented a problem to the growing congregation, and in the 1950s members discussed a plan to tear down the historic building. Instead, they decided to preserve it and began planning ways to expand around the original structure.
In the 1980s, the interior was gutted and rebuilt to house a sanctuary. A stone fireplace serves as the focal point of the space, with a pulpit and movable chairs in front of it. Carved oak doors frame the entrance and an oak staircase descends into the room. "It's a warm and cozy space," says Elisabeth O'Grady, the congregation's board chair.
The renovations also include a restaurant-quality kitchen on the second floor and a wheelchair ramp at the rear of the church. More recently, a flat-roofed religious education building was added off of the north side of the original structure. There are more plans in progress, such as adding an elevator to allow easier access to the second floor of the building. The front façade, including the memorable stone turrets, has been left intact.
The Givins' Irish Castle is recognized by the Chicago Landmarks Commission and is listed in the National Register of Historic Places. A documentary about the building, Chicago's Only Castle: The History of Givins' Irish Castle and Its Keepers, was released in September.
---
Photograph by Lloyd Degrane.
Comments powered by

Disqus