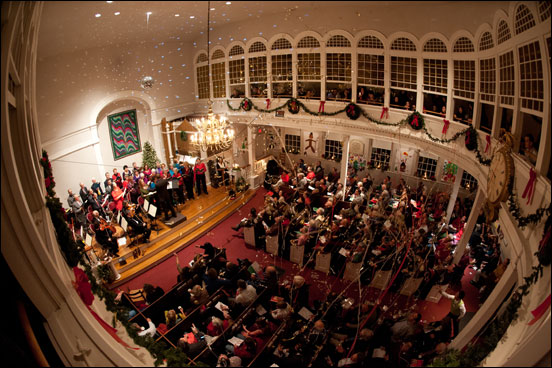 Disco ball and candlelight
At First Parish in Bedford, worship is 'holy theater' and anything but stuffy.
By Kimberly French
Winter 2012 11.1.12
The first service at First Parish in Bedford, Massachusetts, this fall—held outside the venerable meetinghouse on the town common—was as much circus as church, and that's how parishioners like it: Giant balloons in the shape of doughnuts and cupcakes. A bone-shaking taiko drumming quintet. The choir in Red Sox insignia singing the national anthem. Tables where you could make a pinwheel, or pick up baklava made by a local Iraqi restaurant. A sermon worthy of late-night Comedy Central, riffing on Clint Eastwood's Republican convention ramble with an imaginary president in a chair.
"Please come back," said Gibbons at the end of the service. "It's not like this every Sunday." That has become the real joke at First Parish. Because it kind of is like this every Sunday.
The following week the congregation moved inside its 1816 sanctuary, with its numbered pew boxes and pipe organ, following a proper order of service with three hymns, an affirmation, even Joys and Sorrows. A preacher who holds listeners spellbound, Gibbons plumbed the theological depths of his topic of spiritual destiny—heaven, hell, or today, "my favorite day," in the words of Winnie the Pooh. He wove together the Epistle to the Romans, Rumi, a Zen master, Forrest Church, and a host of poets, and taught the term realized eschatology—"so you get your money's worth." More serious, to be sure, yet Gibbons couldn't resist amping up the energy with a competitive cheer the drummers had taught the week before: "Sushi!" "Wasabi!"
The Unitarian Universalist Association named First Parish a "Breakthrough Congregation" this year for its sustained growth. (UU World is profiling a UUA Breakthrough Congregation in each issue.) Membership has doubled since Gibbons started there twenty-three years ago and is projected to break 400 this year. First Parish had a $33,000 budget surplus last year. The congregation has dug deep for capital campaigns, time after time, fusing a three-story addition onto the meetinghouse in 2000, then renovating classroom space and installing an elevator in 2011.
Even more significantly, last year the congregation reported serving 1,000 people "beyond the congregation," many of whom have never darkened the door on the Bedford town common. These folks—who include assisted-living residents, veterans' hospital patients, Iraqi refugees, and partners in foreign countries—often feel they are part of the First Parish community. Members like to say, "The church has left the building."
In the mid-'00s average attendance on Sundays when Gibbons was preaching reached the sanctuary's capacity of 240. Coffee hour had turned into sardine hour. The congregation made the painful decision in 2009 to go to two services, with the Solomonic compromise to revisit the decision at each annual meeting for three years. Also in 2009 the congregation named a second full-time minister, the Rev. Megan Lynes, who brings her own youthful pastoral style and has been known to cartwheel across the chancel.
Creative Sunday services that also go deep are one piece of Bedford's growth formula. Gibbons is a self-admitted sucker for shtick. "I saw a 3.5-foot-long, helium-filled, remote-controlled clownfish on YouTube, and it took me about thirty seconds to order it," he laughs. "I could just see it flying around our sanctuary and circling the chandelier."
It works. Clownfish are now part of the Bedford brand. When 4-year-old Quynh Southard saw one on a visit to a Wellesley College lab, she cried out, "We have those at my church!" A student lab worker replied, "Wow, if my synagogue had a clownfish, I might have kept going."
The sacred and the shtick coexist side by side. Several times a year, inspired by their partner church in the tiny Transylvanian village of Abásfalva, the Bedford church pulls out its historic silver Com­munion service, which for decades has been on loan to Boston's Museum of Fine Arts. "Many people are hungry for ways of participating in worship that can be whimsical, like clownfish, or profoundly meaningful, like Communion," Gibbons says. "Clownfish and Communion are not for everybody. But we offer a diverse banquet of opportunities to engage the intellect, the emotions, and a sense of awe and delight. It isn't just about entertainment, but there is a holy theater to worship. We want to find ways to attract people's attention, hold it, and get them to stay for more and deepen their experience."
Lynes adds, "A lot of young adults want to stand in a pew, hold a hymnal, and step into the living stream of ancient religions. They also want to feel creative, live in the present day, on the edge, figure out how to live a good life, live through hard times, and get up when you can't imagine how. Church today needs to leave room for both—it has to be relevant, and it has to be part of the ancient stream of things."
---

View this slideshow at UU World's Flickr page. Created with Admarket's flickrSLiDR.
Not so long ago, First Parish looked like a type of UU church often found in New England: At the center of a pretty little town turned affluent suburb. A large historic meetinghouse that had gotten pretty grotty around the edges. Folks who would reliably turn out for an anti-war rally, gourmet potluck, or a talk about a fellow member's science research. All getting older, with lots more adults than kids. A nice place, but a bit, well, clubby.
When Gibbons came in 1990, First Parish had 189 members, a back door hanging off its hinges with an obscenity scrawled across it over the summer when the church was closed, but also a tradition of great preachers, lay leadership, and activism, and real pride that its priorities were in the right place.
"I came with a deliberate strategy of taking baby steps that could result in some tipping point," he remembers. He started by asking for $25 donations, no more, to replace pew cushions that had the stuffing spilling out. Then a rotting Wayside Pulpit. Then a new sound booth, a memorial garden, and exterior lighting.
"Those merely cosmetic things instilled pride in what we could accomplish and an ambition to do greater things," he says. "That whole string of actions changed our perception of ourselves, that we are not individual and unconnected. We are greater than we imagine ourselves to be."
Next he looked for a program—"something to keep the congregation from falling asleep and keep myself from being fired," he jokes—and settled on a partner church in Transylvania, not really knowing much about it. More than ninety parishioners have now visited Abásfalva, and Unitarians from all over Transylvania have made pilgrimages to Bedford, where the Partner Church Council is based.
Anytime anyone had a new idea, the answer was always, "Why not?" "Nothing is impossible when you walk through these doors," member Sarah Dorer says. When her kids were little, she went to the board with a "wacky idea" to create a community parenting program. The church gave her space, and for more than two decades the Bedford Family Connection has been a local institution, helping parents and kids meet, play, and learn about the community.
In the late 1990s First Parish reached that tipping point. A flood of families joined, with kids who have grown up together. Children's religious education enrollment has been between 100 and 150 ever since, with two youth groups. In 2004, attendance and membership began another steady climb. A full-time director of religious education, Lisa Rubin, was hired. In 2005 Bradford Conner was brought in to head a more formal music program, and the four choirs he and youth music director Janet Welby lead are a major reason many members say they come.*
New ideas keep bubbling up and taking off, some seemingly on their own. Last year Lynes, who has a fine arts degree, organized a potluck to talk about an arts ministry. Forty people came up with fifty ideas, including workshops on puppetry and bookmaking, a six-week course for youth on arts and spirituality, and monthly gallery exhibits—which enthusiastic volunteers got up and running this fall almost without her knowing, she laughs.
"There are simply more reasons than ever to come to church," Gibbons says. "And if you don't come to church, the church will come to you."
---
Over the years, the First Parish tent began to enlarge in ways no one could have predicted—military families, veterans, and Iraqi refugees; senior citizens and families with teens and young children.
Some things just seemed to happen. Ron Cordes remembers an influx of new people after 9/11, drawn in by the church's message of pulling together as a community and by a shared fear of "the jingoistic responses going on in the rest of the country." Among them were military families from nearby Hanscom Air Force Base. The choir began performing at a veterans' hospital, another large institution in town that church members knew little about. Members throw parties and have formed friendships with patients, some of whom have joined First Parish. Ministers visit there regularly.
Three years ago a local nonprofit put out a call to help Iraqi refugees in the nearby city of Lowell, largely professionals starting their lives over with no job prospects, no money, and little understanding of U.S. culture. Charlie Frean, who had lived in Iraq as a teen, signed on and now leads the church's Lowell Iraqi Families Team. First Parish families are partnered with an Iraqi family, share meals, show them around, and help with negotiating job interviews and U.S. life. The church also started a fund to help with city school-bus fees, bikes, winter boots, furniture, and other needs (howcan.ihelpulearn.com).
Early on, Frean asked his partner family of six what they'd like help with and learned they had never seen the ocean. He and his wife went home, brought a second car and a picnic, and trundled everyone off to a rocky point on Cape Ann. "It was such a delight," he recalls.
One chapter stands out in showing how First Parish had to change if it wanted a bigger tent. At the run-up to the Iraq War in 2003, First Parish hung out its "Speak Out for Peace" banner. John Hart, a 19-year-old Army private home on leave, saw it and asked his parents why his town didn't support him.
Town policy prohibits political signs on town-owned property. To anyone driving by, the banner appeared part of the common, recalls Alma Hart, John's mother. Brian Hart, John's father, a former Young Republicans chapter president, went before the town selectmen.
Some church members argued they were within their rights on church property, saying what they needed to say. Gibbons came to the meeting and offered this compromise: Let us finish thirty days with the sign, and on Saturday I can get some volunteers to take it down.
"That UU minister's a pretty reasonable guy," Alma remembers Brian saying when he came home.
In October 2003 machine gunner John Hart was shot in the neck and killed in an unarmored Humvee in Iraq after running out of bullets. The Harts' closest friends, members of First Parish, wanted to invite Gibbons over. "After the fight we had, I wouldn't feel comfortable," Brian said. But their friends insisted.
"John came over, and he was the most calm, common-sense, absolutely the person we needed at that moment," Alma remembers. "I was really offended by a lot of conversations I had in the next few months, people who thought I had to accept Jesus and I wouldn't feel so bad when I realized John's in heaven and not dead. But John [Gibbons] said, 'Nobody asks for this. You got thrown on this path, and we will walk with you on it.'"
When the death was announced at Joys and Sorrows, people burst into sobs. After a candelight vigil on the common, the church invited everyone in for refreshments. Gibbons helped organize an interfaith service in town, then flew to Arlington National Cemetery three weeks later to officiate at the graveside.
The Harts, who had just sold their business and home, decided to stay in Bedford. Brian launched a fight with the Pentagon, uncovering how poorly it was equipping soldiers. He started a company that makes robots that can disable roadside bombs. Alma leads workshops about post-traumatic stress and suicide among veterans.
On the fifth anniversary of the invasion of Iraq, Alma helped hold the "Speak Out for Peace" banner on the common. The Harts have joined the church. Brian plans his schedule so he never misses a potluck. This year Alma, who wears her chalice necklace proudly alongside her gold star, is serving as board secretary.
---
As congregations across all denominations are graying, churches that want to grow are often advised to turn their sights on young families. But when First Parish looked out into Bedford, they laid eyes on a 72-acre continuing-care facility called Carleton-Willard Village, where the largest religious affiliation was UU. In 2010 the church started running a free shuttle bus on Sunday mornings, bringing seniors or anyone in town who needs a ride to services—not just to First Parish, where they fill a couple pews, but to any church.
Every week, Gibbons and Lynes hold small-group ministries at Carleton-Willard, creating a satellite congregation that many members only vaguely know about. When First Parish member Doug Muder was invited to talk about one of his UU World essays, he was surprised to find an active group of three dozen people, many he'd never met. Muder calls his church "a base camp rather than a refuge." Suburban congregations, which a striking number of UU churches are, tend to get very insular, Gibbons says, but getting beyond the church walls is imperative to their survival.
"People say, 'I don't just come to church to get fed. I come to feed others, and it feels great,'" adds Lynes. "And then they bring their friends."
"As people come in," says membership co-chair Linda Pollitz, who works with a couple dozen volunteers, "we make a concerted effort to find out, 'What's interesting to you?' not 'What committee do you want to join?' and 'How much can you pledge?' Let's see if it's going to be comfortable, if it's going to take." Membership Committee members invite newcomers to smaller events, like "Quiche & Tell," and introduce them to people they might like. "'Oh, you're a librarian? Well, let me introduce you to Sharon McDonald.' Next thing they see Sharon up on the pulpit telling a story about our historic Prescott bass, which is a really cool instrument, and maybe they think, 'Gee, I have a story to tell. How do I tell that?'"
Church leaders were asked this fall how they would advise other churches that want to grow. Treasurer Bob Johnson offered, "When new people show up, show them you're glad they're there. Show them you're glad you're there. Cathy Cordes did it for me."
Pollitz pipes up, "And Bob did it for me."
---
Photo (top): Confetti rains down as the congregation sings "Joy to the World" during its 2011 Christmas Eve service (© 2011 Carlton SooHoo/panospin.com). This article appeared in the Winter 2012 issue of UU World (pages 37–41). See sidebar for links to related resources.
Correction 11.15.12: Earlier versions of this article, including the version that appeared in the Winter 2012 edition, failed to mention Janet Welby, youth music director, who leads three choirs of children and youth. Click here to return to the corrected paragraph.
Comments powered by

Disqus