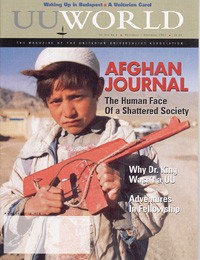 features November/December 2002 · VOL XVI NO 6
Afghan Journal
COVER STORY Glimpses of daily life in Afghanistan challenge a reporter's Unitarian Universalist principles, but give a human face to a struggling society. /BY DAVID ZUCCHINO
SIDEBAR Afghan relief and reconstruction have become a priority for many Unitarian Universalists. /BY JANE GREER

Why Dr. King Wasn't a UU
Racism wasn't the only barrier that kept the Rev. Dr. Martin Luther King Jr. from becoming a Unitarian. /BY ROSEMARY BRAY McNATT

Adventures in Fellowship
The fellowship movement transformed the UUA, spreading congregations far and wide. A look back at a bold experiment in growth. /BY WARREN R. ROSS
SIDEBAR Childhood memories of a Unitarian fellowship. /BY JANE RZEPKA

---
reflections
Commentary. Waking up in Budapest. /BY PAUL KENDRICK
Wayside Pulpit. With sleeves rolled up. /BY MAGNUS RATTER
Creations. Family dance. /BY GAY GRIFFIN RISEBOROUGH
Heritage. Mutual indebtedness. /BY JOHN F. HAYWARD
Inside Out. Cartoon. /BY CHARLES BARSOTTI
Encounter. A demanding joy. /BY LEAF SELIGMAN
Scripture. Freedom in service. /EPISTLE TO THE GALATIANS
In Memoriam. Philip Simmons. /BY DAVID REICH
Admonition. Make yourself miserable. /BY FORREST CHURCH
Poem. Late prayer. /BY JANE HIRSHFIELD
Testimony. /COMPILED BY JOHN A RAKESTRAW JR.

---
departments
Opening Words. Christmas beatitudes. /BY DAVID RHYS WILLIAMS
From the Editor. Changes. /BY TOM STITES
Our Calling. What is our faith worth? /BY PRESIDENT WILLIAM G. SINKFORD
Letters. Refugee strength, the legacy of President West, and other matters. /BY OUR READERS
Bookshelf. Hungry for freedom in times of social change. /BY ROSEMARY BRAY McNATT
Book to Note. The American Creed, by Forrest Church. /BY TOM STITES
Focus on History. New books on our past. /BY CHRISTOPHER L. WALTON
Congregational Life. Committed to civil liberties. /BY DONALD E. SKINNER
Spiritual Landmark. The Unitarian Universalist Fellowship of Mountain Home, Arkansas.
What in the World? Discussion questions. /BY JANE GREER
Looking Back. Edmund Hamilton Sears' Unitarian Christmas carol. /BY KEN SAWYER

---
news
Social Justice.
Minister challenges 'under God' clause
Tulsa race riot survivors receive second checks
Bill restores voting rights of ex-felons
California clergy support right to die
Public Advocacy. From the Washington Office. /BY ROB CAVENAUGH
International.
New banks help businesses grow
Prague floods damage historic Palác Unitaria
In the Congregations.
Brattleboro shooting further investigated
Road signs and work camps assist Maine churches
Cape fellowship plans alternative March celebration
Quincy, Ill., church joins Dogwood Parade
UUs in the News.
Two young UUs help capture Web site prize
GA casualty doing well after collapse
Owen-Towles honored for 24 years of service
Preservationists halt Meadville expansion
UU Trend. Churches support affordable housing efforts. /BY DONALD E. SKINNER
Living the Faith. Fargo YMCA recognizes nontraditional families. /BY DONALD E. SKINNER
Milestones. Obituaries for Thomas Edward Ahlburn and Rudolph W. Nemser
Religion News. Government ordained by God? /BY JOHN A. RAKESTRAW JR.

Not every article in the printed magazine is published on-line. Back issues of the magazine are available for $4.50; photocopies of selected articles are also available. E-mail world@uua.org or call (617) 948-4693 for more information.


UU World XVI:6 (November/December 2002)