features
SEPTEMBER/OCTOBER 2004 · VOL XVIII NO 5
Manufactured Fear
War, politics, media, and advertising all contribute to an atmosphere of fear. /BY NEIL SHISTER
SIDEBAR Resetting the worry alarm /BY FORREST CHURCH
Where Did Our Time Go?
Let's take back our time /BY WILLIAM J. DOHERTY
SIDEBAR Savor life /BY SONJA L. COHEN
General Assembly 2004
The UUA's annual convention reaches out to non-UUs, welcomes a new leader, and condemns torture and abuses of civil liberties. /BY CHRISTOPHER L. WALTON
SIDEBAR Stalwart leaders /BY SONJA L. COHEN
SIDEBAR Healthy stewardship, declining enrollment /BY TOM STITES
---
reflections
Encounter. Playing with the Italians /BY EDWARD FROST
Wayside Pulpit. Friendship /BY MARY WOLLSTONECRAFT
Affirmation. Elevator speech /BY MELVIN E. MACKEY
Creations. Acorns /BY JOY TROYER
Challenge. First things first /BY HANNAH WELLS
Creations. Tringali's Orchard, Lake Huron /BY MARY BLOCKSMA
Testimony. Religious voices in the news /BY JOHN A. RAKESTRAW JR.
---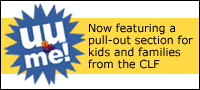 departments
Opening Words. /BY THE REV. THOMAS STARR KING
From the Editor. For the child in everyone /BY TOM STITES
Our Calling. Everybody deserves a voice /BY PRESIDENT WILLIAM G. SINKFORD
Letters. /BY OUR READERS
Contributors.
Forum. Compassionate advocacy /BY BARBARA COOMBS LEE
Forum. There is no crisp line /BY W. FREDERICK WOODEN
Congregational Life. Kansas City churches build partnerships
Spiritual Landmark. Emerson Unitarian church in Houston, Texas
Bookshelf. The pages of sin /BY DAN CRYER
Books to note. Perspectives on politics /BY TOM STITES
Books by UU Authors. Children's books /COMPILED BY KENNETH SUTTON
What in the World? Discussion topics on UU World articles /BY JANE GREER
Looking Back. Ephraim Nute, free-state minister /BY MICHAEL O'BRIEN
---
news
UUA.
UUWF expands mission, funds new projects
UU clergy acquitted in marriages
Beacon Press celebrates 150 years of publishing
UUs in the News.
Inventor of the World Wide Web is knighted by queen
Same-sex newlywed loses teaching job at Catholic high school /BY LORRAINE SANDERS
Social Witness. Community forum opens dialogue /BY SONJA L. COHEN
In the Congregations.
Voter registration starts at home, churches find
Small UUs press big campaign /BY DONALD E. SKINNER
Church cluster organizes revival
Political Action. Support needed for 2003 Voter Confidence Act
Living the Faith. 20 years of justice victories in India
Dispute. Supporters fight to maintain home's UU identity
Milestones. Obituaries for Jesse Raymond Cavileer, John Branch Isom, Arthur Boyd Jellis, Peter S. Raible
Not every article in the printed magazine is published on-line. Back issues of the magazine are available for $4.50; photocopies of selected articles are also available. E-mail world@uua.org or call (617) 948-4693 for more information.


---